Vintage furniture can be upcycled/recycled from many parts and pieces. There are many people out there doing just that so stand out from the crowd. Going the extra mile and spending a little more time paying attention to detail is a way you can do so.

The cabinet pictured to the right is an example of a piece of custom-made furniture. It was inspired by an antique French cabinet. The back of the cabinet is a vintage bead board door, the top and bottom trim is old house casing. The turnings running down the sides are vintage stairway spindles, and the door was salvaged last summer from an old pie safe. The arch in the top of the door was created after the fact to match the original cabinet inspiration.
Then the entire cabinet was finished with a base coat of black, two coats of linen white, and then gently sanded so some of the black showed through, then glaze was applied with a finale matte clear coat finish to give this an Annie Sloan chalk paint type of finish.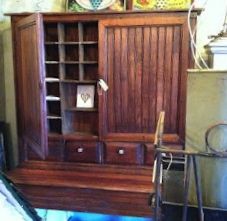 Another approach to vintage bead board is this mail/cubby-type cabinet that came out of a railroad depot. The cubby needed repairs, then it was refinished using amber shellac to give it that vintage/original look of old finished wood. This is currently for sale at Blue Door here in Grand Rapids.
More ideas for recycling vintage furniture and giving it new life can be found in Rachell Ashwell's book Shabby Chic Interiors. Rachell Ashwell has much experience in the field and has often been credited with starting the trend of painting furniture white. In her book, she shows some use of very soft colors and simple vintage themes.
Source and photos: Dan and CJ Zondervan own True North Design and Antiques