When we moved into our house seven years ago, I fell in love with the front bedroom. We sit up on a country hill, and the room is filled with morning sunlight and a generous view of rolling hills, evergreen trees, and running horses. My son was gifted this room at first because he was too little to be far away from the Master Suite.
We have since finished the lower level and added two more bedrooms. Last year, he decided that it was time for him to move downstairs. I wanted to immediately claim the room for my own, but I couldn't get the feel quite right.
I needed a quiet space where I could write, but with enough vibrancy to inspire my more creative work. Since we added a year long resident to our downstairs guest room, this room needed to function temporarily as a cozy space for guests as well.
I started by creating an "inspiration board." Pinterest, an online tool that lets you create a virtual bulletin board of photos and their website links, is a great way to get started. Once I had some ideas for how I wanted it to feel, I created this to help keep me focused.
I was also on a pretty tight budget for this project. I sold the old couch that had been living in the room for $450, and used that money as a guideline for how much I could spend on my new space.
Lately, I have had an obsession with all things vintage. I love the energy that comes from an object that has been repurposed, and you can't match the quality of pieces that were made before we were a "disposable" society. My first step in searching is usually my mom's house, where I found this: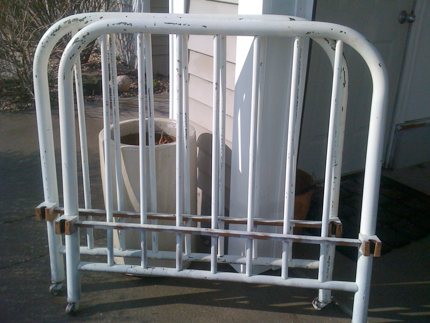 It is an old hospital bed that my dad salvaged from a demolished cottage many years ago. Because I wanted a daybed, I used two footboards instead of a headboard and footboard set. I was hoping to leave it in the original state, but unfortunately it was too damaged. Four cans of spray paint later, I have this great bed for less than $40!
The walls needed both organizational space to keep my books, and practical workspace where I could pin up ideas and play with colors. This was in my playroom, and my children have long outgrown its use, so after a good cleaning, up it went.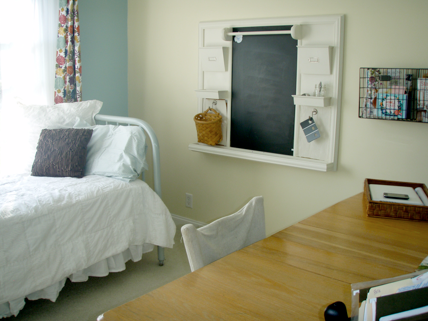 Then, I added this great magazine rack that I found at Meijer for around $50: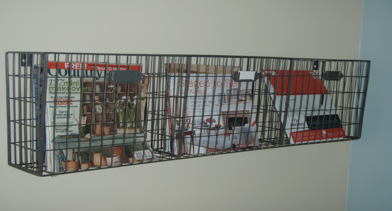 The last project was my desk. I wanted something that was deep and long, so that there was plenty of space to spread out. I already had a great farmhouse table that my mom rescued from my grandparent's barn attic. All I had to do was move it upstairs, and put all the leaves in to give me great workspace.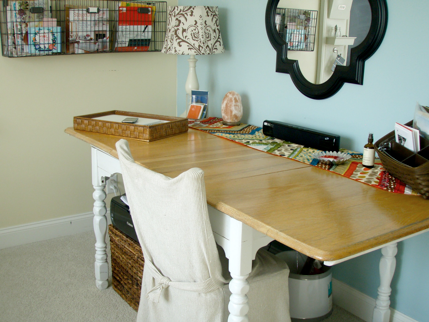 The finishing touch was a mirror at eye level so that no matter which direction I face in the room, I can still take on the great view.
I now have a peaceful and functional space that ended up costing about $250 including new curtains and bedding.
Written by: Stephanie Wagner is the owner of Hestia's Hand in Ludington, Michigan, and a consultant for Allard Design LLC in Spring Lake, Michigan. After spending fifteen years in the field of early childhood development, Stephanie left her full time employment to pursue her passion for interior decorating and writing.