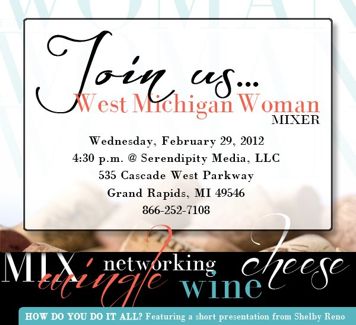 We asked our designer Courtney Van Hagen to give us the skinny on designing the perfect invitations for any occasion. Whether you're planning a wedding, baby shower or a dinner with friends, we've got your details covered.

West Michigan Woman: How do you choose the colors when you're designing an invitation?
Courtney Van Hagen: I always figure out color by talking to the client and seeing what their favorite color or theme is. Sometimes they already have something in mind, so we go from there, or if they just want to see a bunch of different ideas, I always try to choose fun colors that will make the invitation pop and fit their style and personality. I also think of the time of year, and the location of the event.
WMW: How do you decide to include any graphics or pictures?
CVH: Right now I'm working with a bride who is getting married in an, old restored barn. She wanted outdoors, but classy. I found the best background graphic to use that incorporates vines and flowers throughout, tweaked the color to fade into the background, and made it fit into the Save the Date she was imagining. Another client knew she was going to have a bird's nest baby shower theme, so that's the direction I took. It's easier when they know exactly what they want, but its a lot of fun searching for images and finding new ideas along the way! Sometimes the image itself can be what MAKES the invitation.
WMW: What software do you use to make invitations?
CVH: I use all of the Adobe Suite programs, but the two I use the most are Photoshop and InDesign. Photoshop is key when working with images and backgrounds. I use InDesign more so for a layout perspective. Afterwards, I send them to a local printer to be printed and shipped out, or assemble them at home and deliver them to the client.
WMW: Can anyone learn how to design invitations?
CVH: I think anyone can if they have the time to put into it, and the love of designing! It's a lot of fun, and there are so many different options! If you're into scrapbooking, then you already have one foot in the door to creating your own invitations. If you know the programs I've listed above, or have a design background, then you have endless possibilities at your fingertips. But on top of designing, you have to be able to communicate with your client. Let them know you're open to all ideas and working with them on what they want – within your own limitations of course! The theme of Paper Garnish is "Your Style, Your Theme, Your Budget." And the first thing I always let a client know is that I'll be working WITH them to make sure they love the end result!
WMW: On a scale of one to ten (one being the easiest), how hard is it to design invitations?
CVH: It really depends on the invitation and the client. I've had three's and I've had a couple of ten's! Maybe even eleven's! It's always fun, and its always a GREAT feeling when you see the final product, and the client is happy, but it always varies from being an easy process to a hard, detailed one.
The scale also depends on how well you know the market – printers, stock supplies, etc. When you have someone you can count on, and sites you can use and rely on, then it's easy to put it all together. But when you're trying to get quotes, or are relying on someone you haven't worked with, that could make it a lot harder of a process than it has to be. Definitely research and keep notes. This helps with future clients who will have similar questions along the way.
WMW: What wording is essential to include on any invitation?
CVH: Key information to include in an invitation is:
Names

Date

Time

Place (for the wedding AND reception – a lot of invitations I do have had both right on the invitation itself)

Is it an Adult Only reception? If so, make sure to include a little side note on your invite, or reception card included.

The same with Cash Bar. There are good ways and bad ways of doing this, so you just want to make sure the person knows their guests. So many weddings today are Open Bar, and even though you don't want to always assume, you also do not want to show up without any cash and be surprised, so it's nice when the bride and groom make mention of it in some way.

Parents' name as well (if they want to use the more traditional style of wording.)
There are a LOT of different wordings out there now that people use. I always love finding fun unique ways of wording invitations if the client doesn't already have something in mind. Just another way to make it stand out above the rest.
Written by: Courtney Van Hagen is our Art Director, and that means she is responsible for the look and feel of everything that Serendipity Publishing creates, from the tiniest direct mail piece to the monthly monster magazine layouts. She learned her craft at Central Michigan University, and has been using it to advance in the graphic design world ever since. She designed the invitations for our West Michigan Woman Mixer taking place February 29 at 4:30-6:30 p.m. Please join us!