The Woodhouse Day spa is self-care central. What is it that they get right? Genuine attention and unforgettable luxury.
It was a mistake to think I could re-enter ordinary life after a visit to the Woodhouse Day Spa. My experience has me rethinking the importance of taking time for me, for my body—and for wellness and peace.
The space sets the tone: Natural wood accents, gorgeous furniture pieces and chandeliers create an atmosphere of indulgence that reminded me of a spa I'd visited in Paris. It's a simple formula that the spa has mastered—one that makes guests feel transported to another realm via top-shelf services, décor, and authentic interaction and attention.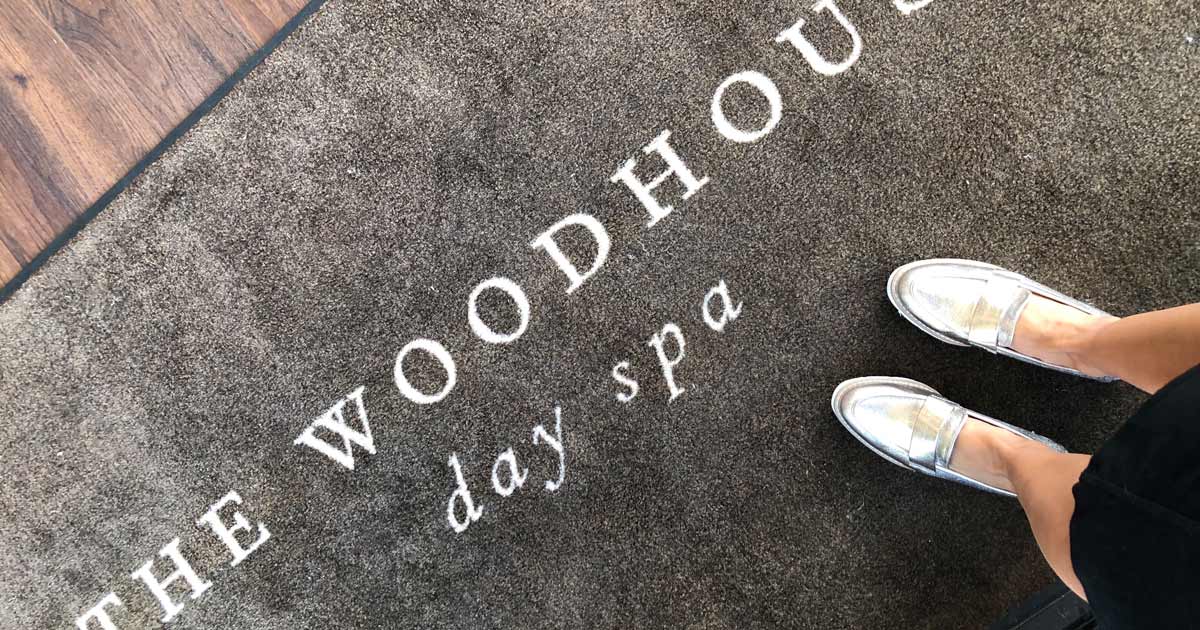 Before guests are treated to services, there's a thorough questionnaire getting to know each person's needs, body and wishes. This step takes place in the Quiet Room, filled with plush lounge chairs, a fireplace, and refreshments such as infused water and dried fruits and nuts. It's a low-lit sitting room you enjoy both before and after the visit. I'm wondering how many requests they've had about people moving in ... Because I was considering it.
Let's break down the services I enjoyed.
SWEDISH MASSAGE
This classic stress-relieving massage utilizes long, flowing strokes to reduce tension, increase circulation and induce relaxation. It's a great introductory massage, meant for unwinding, that you can enjoy for 50, 80 or 110 minutes. The first thing I noticed was the heated massage bed. I'm always cold, so to slip out of a robe into a heated bed was instantly soothing. The woman in charge of my massage made it her mission to create a haven for my experience and brought to my attention that she personalized the session so that if I return and find the experience slightly different, it was due to a few special touches.
My masseuse kept to my request for medium pressure and 50 minutes was the perfect amount of time to feel relaxed and loose; the tension in my shoulders became noticeably absent. It was not my best idea to try and run a few errands after my services because I was so blissed out I could barely concentrate.
There are add-ons, too. For a fee, massage enhancements including aromatherapy, therapeutic warm stones and bath soaks are available.
ILLUMINATING FACIAL
Corrective, active and created to reverse the signs of premature aging and sun damage, this results-oriented facial for lightening and hyperpigmentation includes a two-layer peel and two masks to reveal a brighter, vibrant, more refined complexion.
This 50-minute facial was an absolute joy and has me falling in love with my skin again. (Trust me: It's been a while.) My favorite part was the mask application that occurs twice. It's the closest thing to beauty nirvana with slow, rhythmic brushstrokes covering your face along with a cooling sensation. You really get lost in the hot towels, cool masks and SkinCeuticals products, so prepare to be lulled into tranquility. My feet were wrapped in hot towels and there was a brief arm massage that had me thinking, "This is my facial with these extra perks?" I was also educated on the specific product used that day, which was available for purchase.
I could notice results instantly as my skin had a healthy glow. (That never happens.) And days later, I could see a difference. It's safe to say I'm hooked on facials now—where have I been?—and I'm interested in trying the spa's Refining Acne Facial as I struggle with breakouts. There are facial add-ons such as Vitamin C Boosters, Seaweed Leaf masks and a Perk Eye and Lip procedure that plumps fine lines, hydrates, and exfoliates the delicate eye and lip area.
Bottom line, this is top-notch service from the leading day spa in the area with a robust menu of luxury spa services that you won't find anywhere else in the area. Michelle Pezzato, co-owner and face of the spa, also interacts with clients, ensuring guest satisfaction.
I'd never even heard of Sleep Treatments! Woodhouse offers many, including the Lavender Dreams option. (Cue a restful sigh.) Looking for more small-scale services? Gather the girls and enjoy a nail pampering session with the Warm Agave Nectar Manicure or Pedicure. Seasonal, limited-time special offers are available, so ask what's new before reserving your appointment.
Discover Woodhouse Day Spa and experience a transformational environment.
Written by Missy Black, a footwear fanatic, style child and contributing writer for West Michigan Woman.