Karen Smoots—founder, president, CEO and inventor of TheGreenGloveDryer—is on a mission to keep kids healthy.
By drying gloves.
"Necessity is the mother of invention. There's a reason the 'mother' part is put into that."
Karen could not get her children's gloves and mittens dried. She was buying really good gloves for her kids, but after they played outside and took the gloves on and off, the gloves were soaked, inside and out, at home and in school. When her kids came home from school, everything—lunch bags, books, homework—was soaked from the "sopping-wet, saturated glove."
Dryers were futile. Vents and registers alone were a joke. Karen would even leave the gloves to dry overnight, but the fingertips were always damp.
She realized what needed to be done.
During winter 2013, Karen appealed to her husband, Ryan Smoots, and the two got to work. They made TheGreenGloveDryer: a drying contraption that captures heat from a vent to dry winter gear from the inside out, not from the outside in.
TheGreenGloveDryer is simple, easy, eco-friendly and efficient. It thoroughly dries gloves, mittens and other gear—fast—and eliminates odor and bacteria growth.
Since Karen and Ryan first designed and built TheGreenGloveDryer, the invention has taken the market by storm. It's available online and in many stores.
Now, Karen is on a mission to bring TheGreenGloveDryer into classrooms.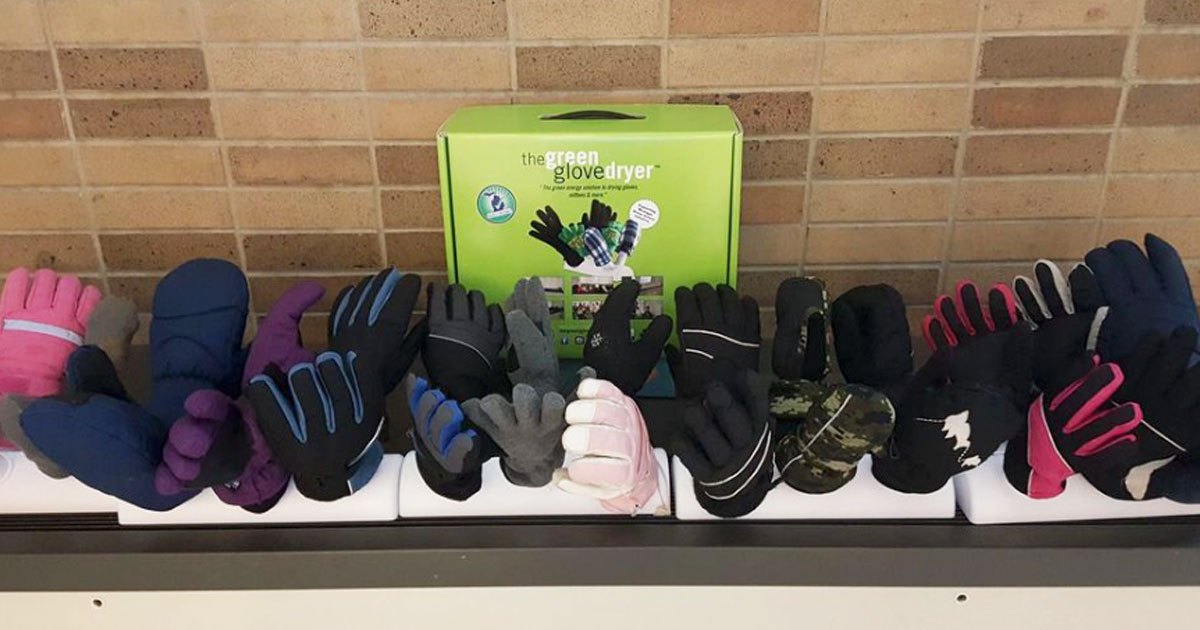 "
Sopping-wet gear breeds bacteria," Karen explained. "The kids at school have the most bacteria-ridden gloves in the country. The winter months are the months when kids are sick." The community could help prevent sickness from spreading in schools by drying damp, germy gloves—something kids put on their hands every single day.
Karen has given away 100 free dryers to classrooms, and Consumer's Energy placed 150 classroom packs across Michigan.
It's a start, Karen notes, but it doesn't even scratch the surface.
"We need help."
Karen is appealing to individuals and business to join her on the mission to get TheGreenGloveDryer into every school—and every classroom—in Michigan, by purchasing and donating TheGreenGloveDryer. Just $40 per classroom, she adds, will dry kids' gear for many snowy winters to come.
"It's not something novel. It's not something techy. It's something so stupid simple, it works."
Join the movement. Help keep kids healthy. Bring TheGreenGloveDryer into classrooms. Learn more online at thegreenglovedryer.com, or e-mail [email protected].
Written by Cassie Westrate, staff writer for West Michigan Woman.
Photo Courtesy of thegreenglovedryer.com