As the days grow shorter and the sun starts to dip lower on the horizon, we find ourselves bidding farewell to another unforgettable summer. But before the season slips away completely, there's a hidden gem that deserves a spot on your travel bucket list—Ludington.
Nestled along the picturesque shores of Lake Michigan, just 90 minutes north of Grand Rapids, Ludington offers a captivating blend of natural beauty, outdoor adventures, and small-town charm that beckons visitors to experience the magic of summer's end.
BEACHES AND BEYOND
Ludington boasts some of the most pristine and alluring beaches in the Midwest, making it a haven for beach lovers and water enthusiasts alike. Stepping onto the soft, sugar-sand shores of any of Ludington's beaches, you'll be greeted by the gentle lapping of waves and a sense of serenity that instantly washes away any stress of daily life. Whether you're looking to sunbathe, build sandcastles or take a refreshing dip in the crystal-clear waters, Ludington's beaches offer the perfect backdrop for your summer memories.
LIGHTHOUSES AND HISTORY
Ludington's rich maritime history is beautifully represented by its historic lighthouses. Big Sable Point Lighthouse, with its striking black and white stripes, stands majestically against the dunes, offering breathtaking views of Lake Michigan from its top. A leisurely hike along the scenic trails leading to this iconic structure is an adventure in itself, rewarding you with stunning vistas of the coastline and the promise of a historic journey.
SUNSET SPECTACLES
As the sun starts its descent, painting the sky in hues of pink, orange and gold, Ludington's sunsets are truly a sight to behold. Perch yourself along the Ludington North Breakwater Lighthouse, or stroll over to Waterfront Sculpture Park & Playground with an ice cream cone in hand for front-row seats to nature's grand finale.
TIME IS OF THE ESSENCE: PLAN YOUR LUDINGTON ESCAPE
As the end of summer approaches, time is of the essence to experience the enchantment of Ludington. Whether you seek adventure, relaxation, or a bit of both, this destination has something for every traveler. From the moment you arrive until the time you bid adieu, Ludington will capture your heart, leaving you with memories that will linger long after summer fades away.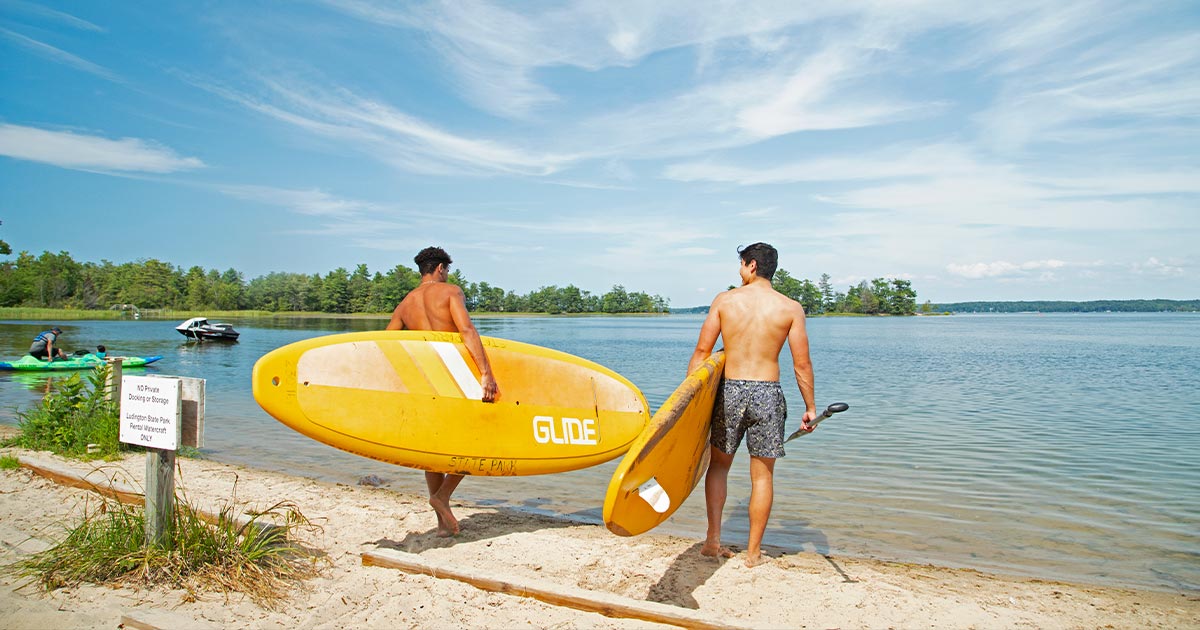 DISCOVER OUTDOOR WONDERS
Unleash your inner adventurer in Ludington! Whether you are looking to hike, bike, paddle or ride, this charming destination is a paradise for outdoor enthusiasts. Dive into Lake Michigan's crystal-clear waters, hike the dunes and explore winding trails by bike.
Embrace the tranquility of Ludington State Park, where nature's beauty knows no bounds. Whether you seek thrilling water sports or serene moments in nature, Ludington offers an unforgettable outdoor escape for all.
So, pack your bags, gather your loved ones and make your way to Ludington for a memorable summer escape. Embrace the last rays of sunshine, feel the sand between your toes and savor the magic of summer's end in this hidden gem by the lake.
Your perfect Ludington adventure awaits!
Courtesy of Ludington CVB.
Main Photo: Credit to Todd Reed.
Within Copy: Photos Courtesy of Pure Ludington.