'Tis the season to gather some snuggle-worthy clothing for the cold fall weather. Cozy cabin in the woods not included. (But recommended.)
Feel soothed all day with items from Magnolia Boutique in Rockford. Go the casual route with striped, double-hooded sweatshirts. Choose from yellow and pink colors on this everyday style that works for errands, chilly walks, and watching football with the family. Want something a bit more upscale? Warm days and cool nights make for ideal vest weather. An Aztec-printed vest is a genius layering piece that looks great with jeans or black leggings and offers a bit more polish, with plenty of comfort. | Hoodies: $34.95. Vest: $54.
Pants these days need to be relaxed, casual and easy to move in. The Green Brick Boutique in Coopersville has a few options. The Venus cuffed joggers feature a tapered fit, a custom drawstring closure and pockets—big bonus! This streamlined, athletic-inspired bottom offers buttery smooth fabric that's breathable and comfortable. How about leggings? Simply hearing the word makes us sigh. Get the four-way stretch you require with Wavelength Mineral Wash Seamless Leggings in a dusty purple/mauve colorway. There's tummy control in the high waist and moisture-wicking properties in case you work up a sweat. | Joggers: $40. Leggings: $35.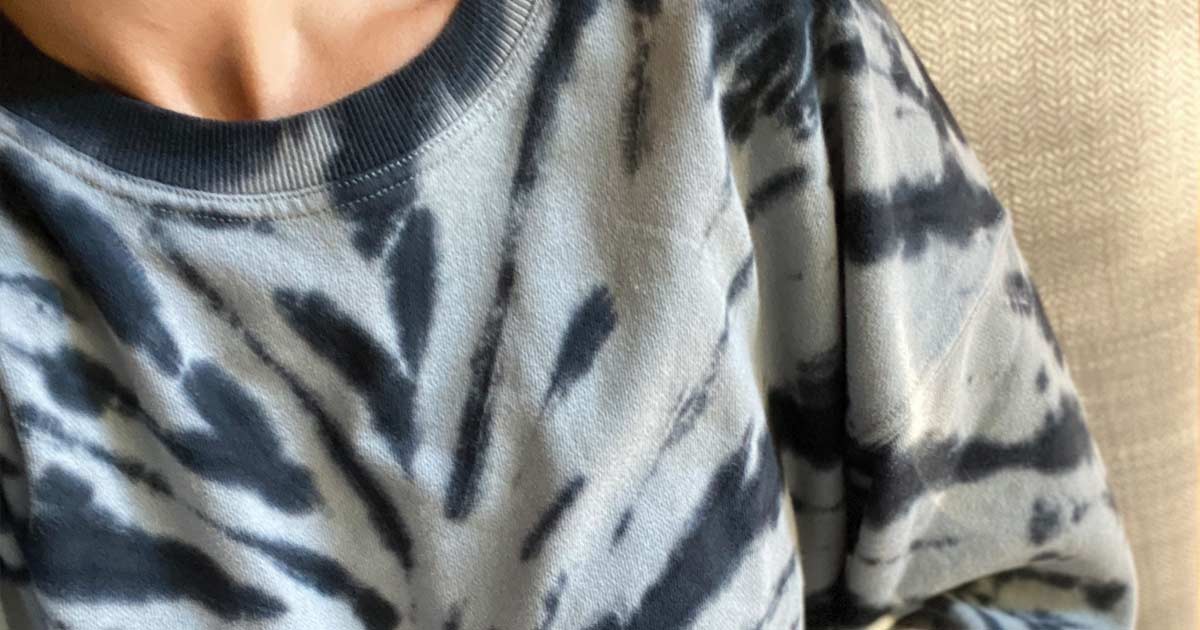 Photo courtesy of Covet Leisure.
Free-Spirited and Peaceful ...
The resurgence of tie-dye patterns means a good mood is guaranteed. Covet Leisure knows what's up, offering a swirly, two-tone sweatshirt that's slightly oversized for a relaxed look. This style is ideal for casual coffee dates with friends and keeps you looking and feeling your best. | Sweatshirt: $45.
OK, you love tie-dye. But you want a matching look. Gina's Boutique totally gets that. Matching sweatsuits are popular and the tie-dye embellishments on these styles give them a touch of edginess. The items are sold as individual pieces, but if you can rock the full look, why not? It's worth noting: The shop is opening a new location at 496 Ada Drive SE. | Silene Striped Jogger: $59. Tempest Crew: $62.
Missy Black is a footwear fanatic, a style child, and a contributing writer for West Michigan Woman.
This article originally appeared in the Dec 2020/Jan 2021 issue of West Michigan Woman.