Color me optimistic, but I'm confident we are out of winter's trenches for good and ready to ditch layers for six months of sun-kissed bliss.
Dust off your breezy blouses and shake out your sundresses, ladies! While men embrace the "sun's out, guns out" philosophy, we have a mantra of our own to stick to: "bang for your buck". If you're thinking wardrobe rehab, I'm meeting you halfway. Changing seasons always come with changing trends and new needs—from shorts to show off the new booty you squatted into shape or a floppy hat in lieu of the sunglasses you always squash (ironically enough with that booty of yours).
If you're anything like me, the mere thought of negotiating a shopping mall on a Saturday afternoon makes you break out in hives. Hours of dodging knee-high children, speed-walking past window-gawkers, and digging through sales racks all for one tank top and a new pair of earrings? Hard pass. I'm going to let you in on my personal Grand Rapids shopping guide secret numero uno: Get thrifty. Without ever venturing outside city limits, you can find one-of-a-kind pieces with the extra spunk you've been searching for, sans the hefty price tag.
Where to go, you ask? I've got a few places in mind.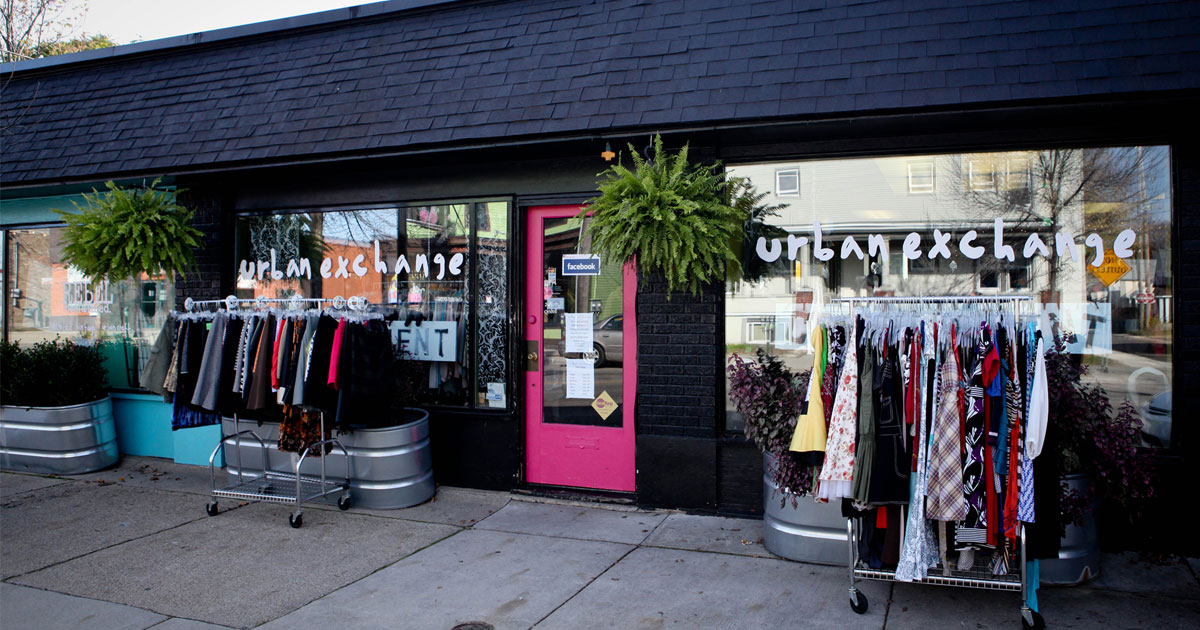 URBAN EXCHANGE | 926 East Fulton Street

Located in the East Fulton business district alongside neighbors such as Bluedoor Antiques & Elements and Van's Pastry Shoppe, Urban Exchange offers a storefront for community fashionistas to sell their gently worn pieces by displaying them for sixty days and paying the donor at the end of the month for any garments sold. For the nonstop shopper, this means a constant rotation of new products, seasonal items, and a variety of styles from designers at all price points to choose from. As a forewarning, the space is pretty cozy ... great for a Selfie Saturday (Saturday spent with oneself). During the summer months, Urban Exchange throws its doors open and moves color-coded racks outside for sidewalk scavenging in the sunshine.
CONSCIOUS COLLECTIVE | 445 Bridge Street NW

Conscious Collective combines the variety of a consignment store with the spirit of a GRMI small business through its support of local artisans. In addition to selling and buying high-quality, gently worn products, the store has a collection of upcycled and repurposed products including jewelry and great home décor. Conscious Collective has a great heart for sustainability, which can be seen in the supplies—repurposed wood and recycled materials—used to construct the space. To reduce unwanted clothing waste, most unclaimed items head off to Well House if they are not sold in the store.
IC HAIR & VINTAGE | 337 Diamond Avenue SE

Functioning as both a hair salon and vintage store, IC Hair & Vintage offers all things quirky and creative to transform your drab winter wardrobe. With a fantastic collection of accessories, bags and clothing, you're sure to find affordable treasures you didn't even know you needed. On top of vintage clothing, IC Hair & Vintage also offers upcycled creations that make your newest piece a definite one-of-a-kind.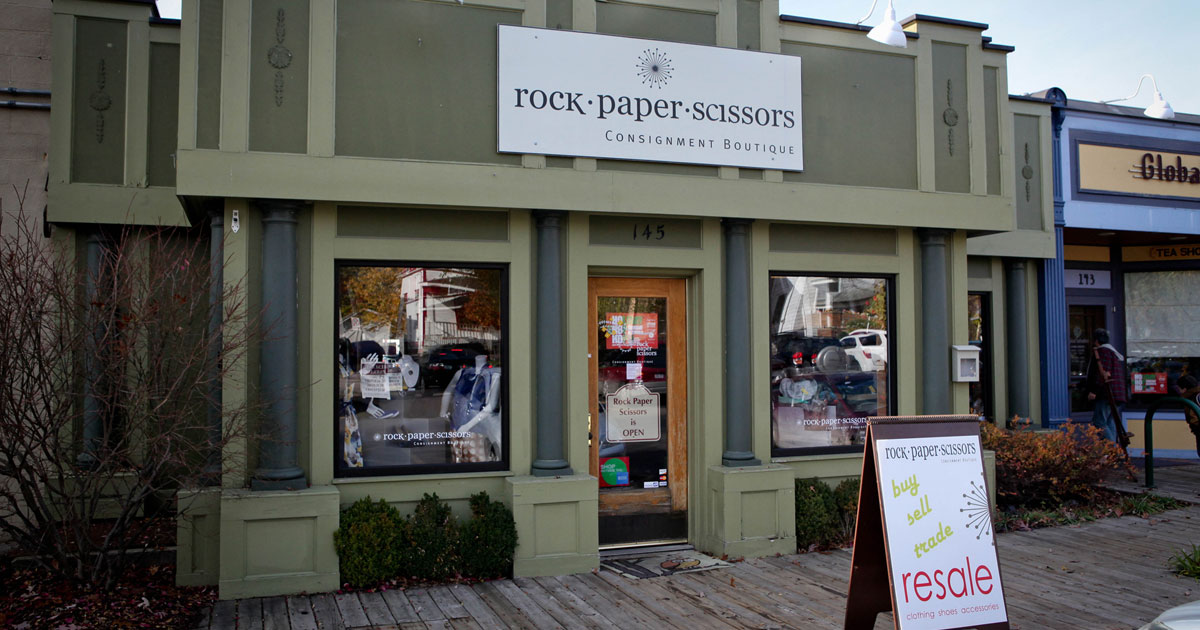 ROCK PAPER SCISSORS | 145 Diamond Avenue SE

Located in the East Hills neighborhood, Rock Paper Scissors adds its own twist to consignment shopping by offering space for private parties. By booking the store for a group of six people or more, your shopping experience will be revamped with two bottles of wine and appetizers. Each guest will receive twenty percent off their purchase; as a host, you receive twenty-five percent off. How great is that? Of course, the store is also open for everyday shopping, should you need something in-season and stylish in a pinch!

HAVE COMPANY | 136 Division Avenue S.

Have Company is an all-encompassing shop, gallery, and artist residency. Among the many handcrafted home products, local magazines, and art to spend hours looking through, Have Company also has a collection of handmade and vintage clothing. While these items are on the pricier side, they are all creations by a supportive community of local artists. The store also offers space for local artists to sell their products, practice their skills, host events, and receive creative consulting. This cooperative mentality sets Have Company apart from other local businesses. We guarantee you will walk out with a purchase to treasure for a long time.
While you're out and about, don't forget to bring along the collection of clothing, accessories, and beyond that you've been meaning to retire. You'll need that extra closet space for your new finds!
Thank you to our friends at 834 Design & Marketing for this article.
Photos courtesy of Experience Grand Rapids.