Known for her affordable design tips, creative DIYs, and friendly, intimate approach to creating coziness, Liz Marie Galvan knows a thing or two about taking a space and making it feel like a warm hug. Now, the USA Today best-selling author and interior designer is sharing all new inspiration and intentional living ideas to help readers create their own cozy spaces and healthy habits in her new book, Create Your Own Cozy: 100 Practical Ways to Love Your Home and Life.
As we transition into the fall season, we caught up with Galvan to get her insight on creating your own cozy, tips for getting the autumn vibes going, seasonal décor storage strategies and more.
West Michigan Woman: Talk about how cozy means something different to everyone. How do you encourage folks to cultivate their own definition of cozy?
Liz Marie Galvan: If you've read my books or followed me online, then you know I believe that cozy is a state of mind. In my new book, Create Your Own Cozy, I walk readers through finding their own cozy and their own style through 100 cozy tips, actions and inspirations. I share stories about how I find and cultivate my own cozy while encouraging readers to identify their own personal priorities, connect with their senses, and tap into joy and gratitude. And! I also provide monthly Home Maintenance Checklists that will guide you to create your own kind of cozy (because checklists always help and I've done the hard work for you)!
WMW: Would you say your own definition of cozy has changed over time, especially since becoming a mom? If so, in what ways?
LMG: Through life's ups and downs, one of the things that has helped me the most in life is creating a sense of home. Knowing myself and what was cozy to me was vital so that I could bring that sense of cozy anywhere life took me. That cozy mindset is part of what carried my husband, Jose, and me through his military deployments, the frustration and hopelessness of infertility, the overwhelming grief of 11 miscarriages, and the uncertainty followed by the eventual joy of our adoption journey—our son, Cope. I'm not sure I'd still be here today without the anchor cozy gave me when I needed it most.
Today, cozy for me is having my senses in harmony. Soft, warm light; comfy seats for lounging and snuggling; the sight of a snoozing pet. I love being able to roam around the beautiful land we have with Cope and Jose and our animals. The way we get to connect with nature, to care for our animals, and to cultivate this little piece of the earth is such a gift.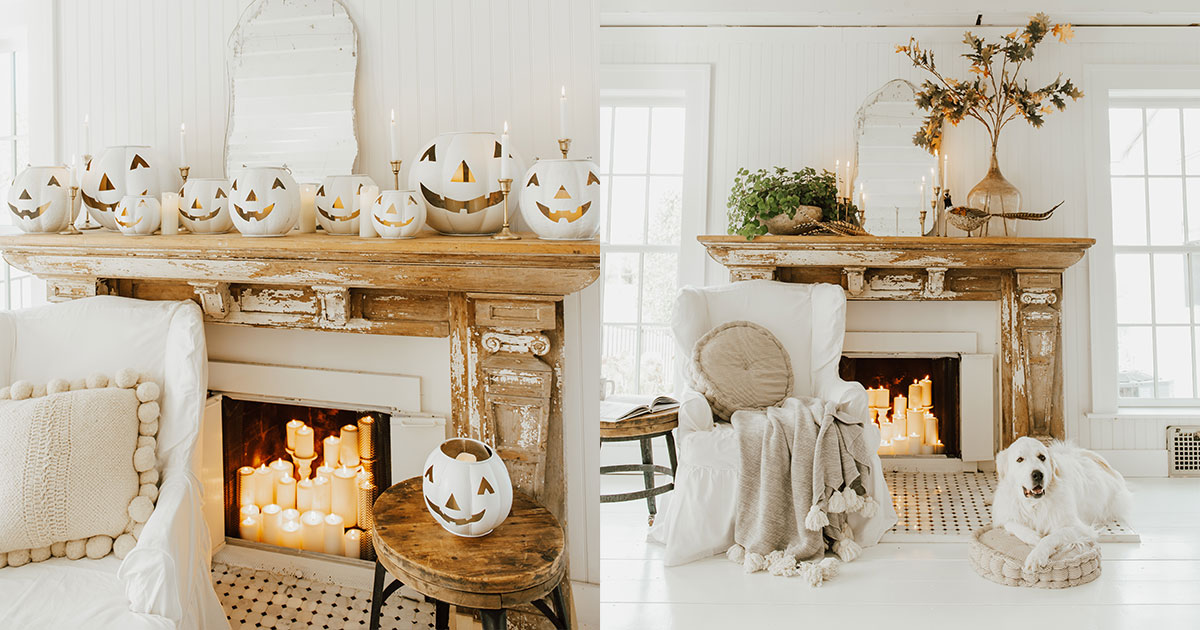 WMW: What are some of your favorite tips for keeping the cozy vibe alive in a kid- and animal-friendly home?
LMG: Everything in our home is durable and washable! A favorite tip is slipcovers. Slipcovers offer flexibility, durability and all-around cozy wonderfulness. Because they are so easy to strip off and wash, slipcovers allow us to actually live on our white furniture without worrying about spills, stains or smudges. And, trust me—in a farmhouse with a toddler, dogs, and the occasional sheep wandering in, dirt is going to happen.
Slipcovers have the added benefit of freshening up a room or changing things up for a season without buying all new furniture. From sofas and ottomans to dining room chairs, slipcovers give us that cozy white cottage farmhouse look we love, while also giving us the durability and livability we need.
WMW: Ultimately, what do you hope readers learn from your new book?
LMG: I want readers to learn that cozy can be accomplished in any style and on any budget. Your home doesn't have to be fully renovated and magazine-worthy to be a cozy refuge.
I also hope to encourage readers to prioritize joy. No amount of money or pretty décor can make up for a life that isn't filled with joy. Joy is what takes a house from beautiful but cold to warm and cozy.
WMW: As we begin to say "good-bye" to summer and "hello" to fall, what are some of your top design tips for welcoming the season within your space?
LMG: With its rich colors and abundance of textures, fall—perhaps more than any other season—calls
out to me to use its natural beauty in my home décor. In our home, the line between indoors and outdoors fades even more as pumpkins, gourds, and branches of brightly colored leaves adorn shelves and tabletops and spill out onto porch steps and patios.
Autumn is a great time to add wood and wicker elements—like woven baskets, wicker demijohns, and wooden bowls—and bottles, jars and crockery in autumn hues. I also like to add rich pillows and poufs in fall's jewel tones, neutral knitted pillows, or rich, earth-toned faux furs, and warm, cozy throws with fall color. Or, use neutral tones that can be used season after season.
WMW: What do you love about decorating for the fall season?
LMG: Fall is cozy season—inside, outside, around the fire, and on porches and patios. I love the colorful, rich, savor-every-last-drop-of-warm fall! Fall décor is so cozy, from pumpkins, gourds and even fall fruits that can bring a touch of the cozy, colorful outdoors into your home.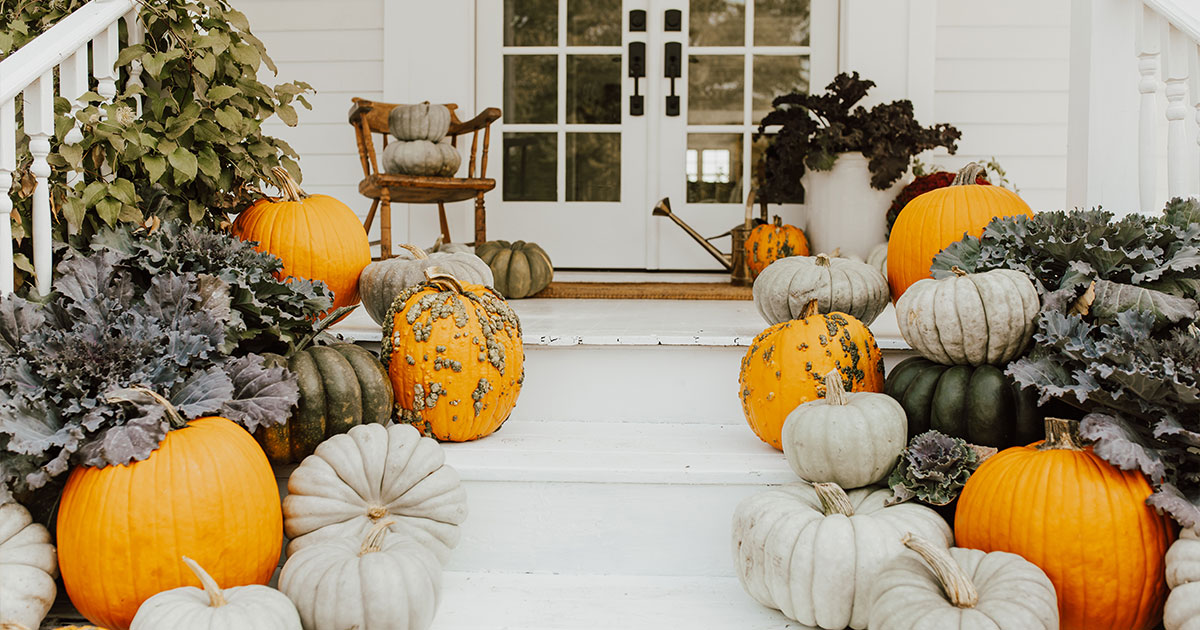 WMW: What are some of your favorite design tips for a festive fall porch?
LMG: I go all out when it comes to our fall porch and try color combinations that fully represent the season. For me, this is the area to experiment with nature and let that influence the end result!
The colors of fall make this so easy to do. My go-to secret is to fill this space with pumpkins and gourds. Pile and stack them, as if they're spilling down the steps and overflowing from the garden. Add in a few knobby and multicolored gourds, dried cornstalks, and mounds of mums, and you're well on your way to an epic fall scene. Pots of colorful cabbages add even more color and texture.
I also love incorporating rustic metals with galvanized buckets, watering cans and vintage metal planters. Pack them with mums or gourds—or both!
My best advice is it make it your own! Choose items that inspire you, and add them to your porch. This is the perfect spot to experiment and try something out of the box.
WMW: Seasonal décor storage and organization can be tricky. Any strategies you can share with those who might be struggling to store and organize all of their seasonal goods?
LMG: How and where you store items will depend upon your home, but if you're looking to stash stuff in an attic, basement, shed or closet, my general tips are the same: Use clear bins with lids designed for stacking. Label bins by holiday/season and the basics of what's inside. Clean items at the end of the season prior to storing. And have a few empty bins ready to go.
I also recommend constantly editing, which can be tricky, but to make room for the new, you need to get rid of the old!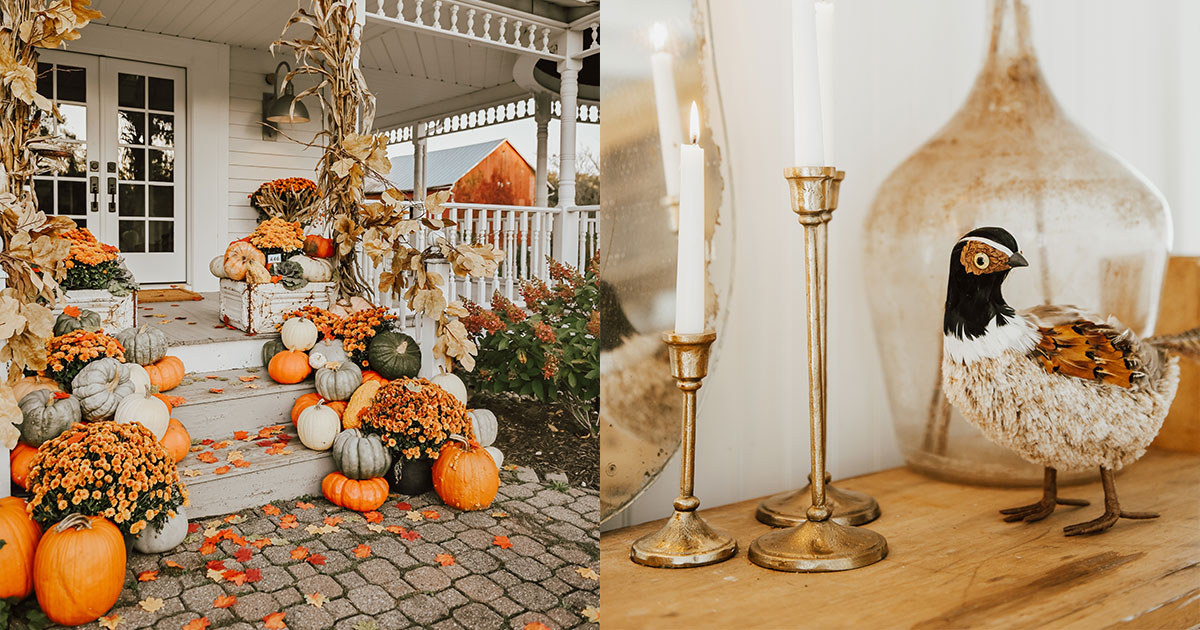 WMW: Is there anything additional you'd like to add to our conversation?
LMG: If there's anything I've learned by now, it's that life is filled with highs and lows. There are a lot of things outside our homes that we can't control, but there are a lot that we can control inside our homes. Cultivating cozy is the way I create a life and home that I love. I am so grateful for the people who read my books and follow me online and invite me into their homes and lives. I wish joy for them in their homes, with their people, and I hope I help them find their own cozy.
Create Your Own Cozy: 100 Practical Ways to Love Your Home and Life is available November 7, 2023, and can be purchased at Liz Marie's store—The Found Cottage in Hudsonville—and wherever books are sold.
Written by Sarah Suydam, Managing Editor for West Michigan Woman.
Main Photos Courtesy of Liz Marie Galvan.
Interior Photos Courtesy of Ann Vanderberg Photography.