There are wonderfully worn treasures to be found around nearly every corner in West Michigan—if you know where to look. Get to know some local women who are digging up and curating the cream of the secondhand crop, and bringing "cool" vintage right to your doorstep.
Angelina Scianna
Angelina Scianna believes having secondhand items in your home is a wonderful way to channel positive feelings of nostalgia. Scianna, who sells vintage items part-time at two booths and works two days a week as a mental health therapist, worked at Goodwill in college and has always had a love for thrifting.
"Shopping vintage is so sustainable and you're buying items that already exist and saving something from the landfill," said Scianna, whose all-time favorite find is a midcentury metal Curtis Jere sculpture. Her shop features mostly mid-century and 70s-inspired items, along with some vintage jewelry. "I believe there's so much history in vintage items and, most of the time, the quality is better."
When it comes to adding vintage flair to your own space, Scianna suggests "starting with smaller decor pieces or functional items, like baskets for storage or kitchen items."
Alison VanDeWalker
Alison VanDeWalker understands that building a home you love takes time. Her shop, named after her dog, Penny, began after she slowly collected an inventory of secondhand goods for her own home, and soon learned that love could be shared with others.
"Anyone can build a room entirely with new items, but the inclusion of vintage gives the depth, interest and uniqueness that can really elevate a space," said VanDeWalker, who recently sold a vintage wicker lamp to Jean Stoffer, which then appeared in an episode of her Magnolia Network show, The Established Home. "Vintage is extremely important in creating a meaningful story in your home that's special to you. It helps portray who you are and what you care about, which in turn creates a space where you can thrive."
For one-of-a-kind items, VanDeWalker suggests shopping with vintage resellers like herself, or getting your own hands dirty by shopping local thrift stores, estate sales, garage sales, online auctions and more.
"In turn, your wallet thanks you, your home is filled with meaningful quality items, and you are helping the planet instead of harming it."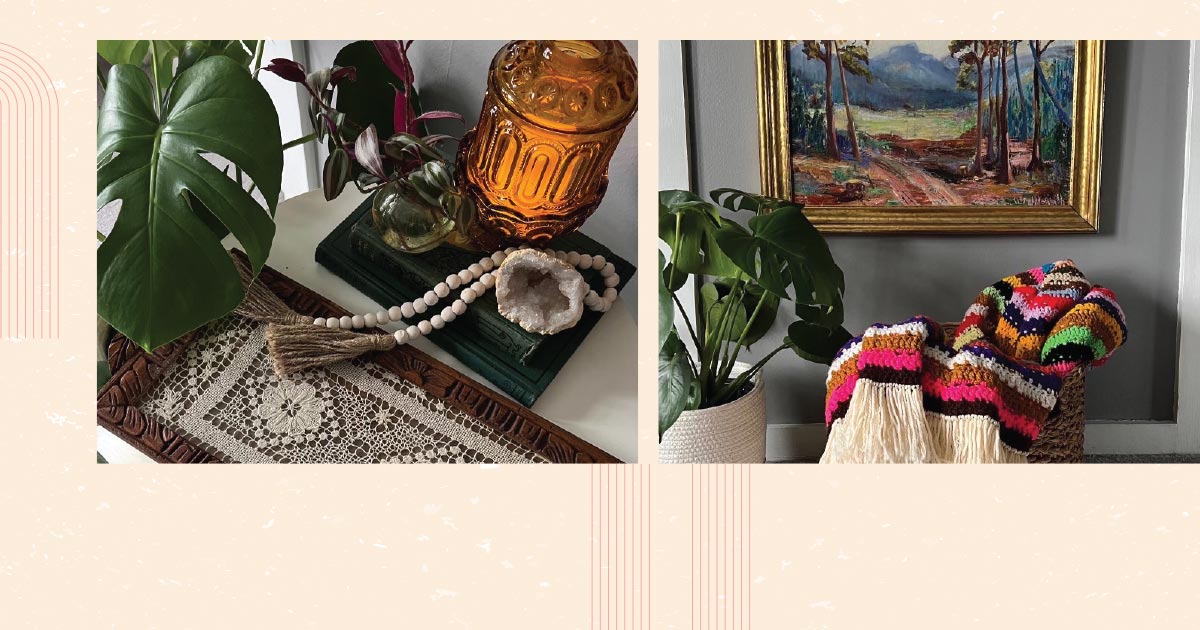 Laine Allen
No stranger to a good bargain, Laine Allen has always loved the thrill of a good vintage find. Allen, who works as an insurance underwriter when she's not sourcing hidden vintage treasures for her shop, UNEARTHED, believes vintage items specifically add interest, quality, character and extra personality to a home.
"When you thrift or buy secondhand, you're being exposed to so many more makers and labels—it's a much wider lens through which to find and explore your own personal style," explained Allen, who often takes her five-year-old daughter along for her thrifting adventures. "She realizes we just never know what we're going to find!"
Allen's keen eye for the unconventional fills her shop with an exciting collection of eclectic items that bring an unmistakable warmth and cozy vibe to the table (literally). When shopping vintage, she suggests really spending a moment with an item, picking it up if you can. You may be surprised what calls out to you.
"I love to fantasize and romanticize about these found items and their previous lives," Allen said. "I feel like the steward of these little lost items, finding their next home where they can be loved and appreciated again."
Mandy Miller
Looking for a creative outlet, Mandy Miller found selling vintage goods was the perfect blend of some of the things she loves most: thrifting, designing, photography and people. Miller's shop, Omastars, abides by the philosophy that design is always shifting and moving. It's also named after Miller's hero, her Dutch grandmother.
"Her home was full of collected vintage pieces, but her heart was what made them all glow," said Miller, whose favorite find so far is a Tessellated Biomorphic Stone coffee table that ended up in the home of one of her favorite designers, Sarah Sherman Samuel. "I love the history these vintage pieces embody, and the nostalgia they bring up as we're reminded of our childhood or people and places we loved, like our loved ones or their homes."
Miller enjoys mixing the old with the new, where it makes sense, and says that if something catches your eye, it will likely pair well with other items that have already garnered your attention. Her advice to those trying to find their own vintage style?
"Just go for it! It's fun to experiment. Don't take it too seriously—just look for what sings to you."
Learn more about the local West Michigan vintage community by checking out the shops above and @westmichvintage on Instagram.
Written by Sarah Suydam, Managing Editor for West Michigan Woman.
This article originally appeared in the Apr/May '22 issue of West Michigan Woman.