I grew up in a family business that focuses on kitchens and baths, so perhaps you might assume that I've redone a bathroom or two in my life.
You would be wrong.
I only recently took my maiden bathroom-remodel voyage. Being that I was working directly with my family's business for the remodel, I was hyperaware of the details throughout the entire process. So, I thought I'd share some tips for others who might be considering a renovation of their own.
OK. Here's the deal: If you want a really nice bathroom, it's probably going to cost some coin. You likely already know this. I thought I knew that, too. But when I was coming up with my budget, there were things I didn't account for.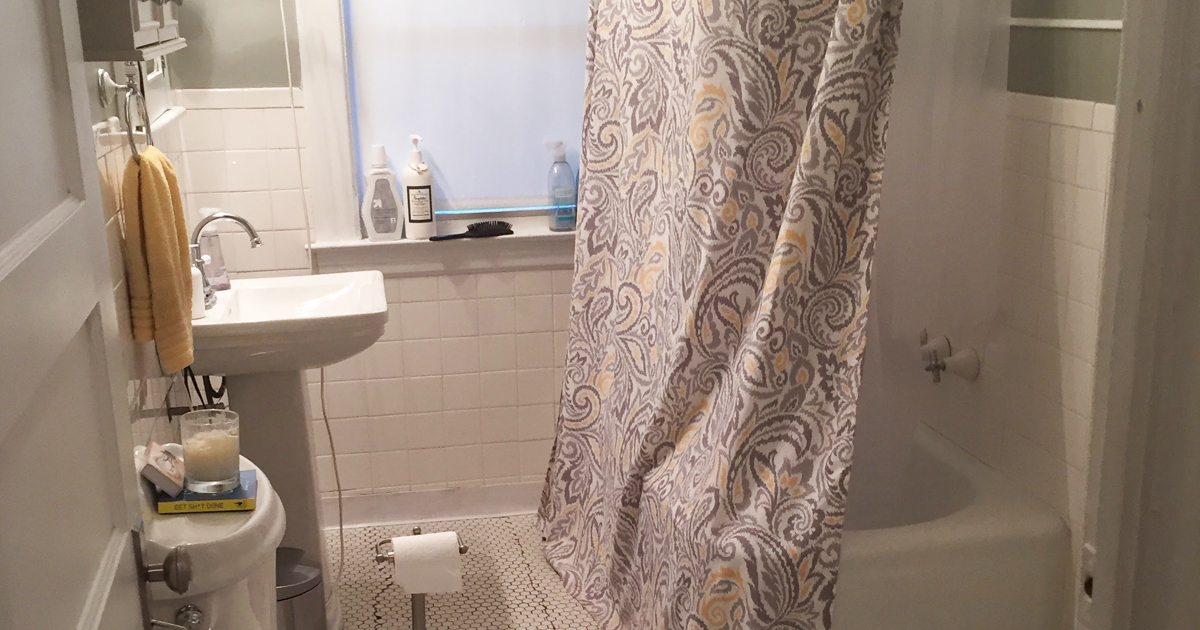 I created a list of points you should ponder, to make reasonable decisions and not have to get upset at anyone—yourself, your partner, your contractor, your suppliers, et cetera—if it feels like things aren't adding up along the way. Here's a general guide you might want to consider when planning your budget.
Bathroom Remodel Budget Considerations
Drywall + labor
Vanity + faucet (or custom cabinets + top + faucet)
Cabinets / Closets + any inserts you may want + hardware
Mirror
Light fixtures
Tub + solid surface / tile / whatever you choose for tub surround + water spout
Shower + shower head(s) and/or bar + shower curtain and rod
Toilet
Flooring + heating element, if you're extra fancy
Electrical = product (lights / switches / wire / et cetera) + labor
Plumbing = product (pipes / et cetera) + labor
Painting = product (paint / brushes / et cetera) + labor
Miscellaneous costs

Towel hooks
Bath rugs
Artwork
Plants
Soap dish / et cetera

General contractor costs = product (wood, trim, et cetera) + labor (demo, removal, install, finishing)
The Process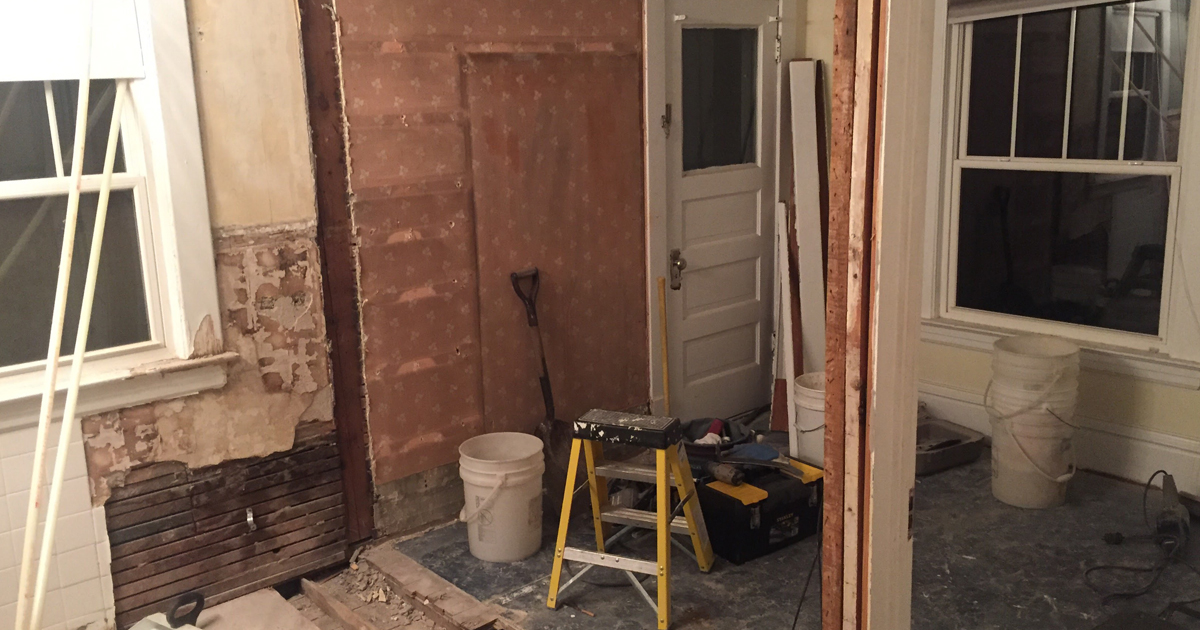 There are variety of options for how you choose to tackle a bathroom remodel. I want to outline a few.
Work with a specialized bathroom designer and hire a general contractor.
This was the route I took. I worked with Williams Kitchen & Bath to create a plan, then had a contractor do the demo, the install and all finishing work. This worked out really well. I was still able to work with certain individuals—my painter and electrician—who were easily folded into my contractor's timeline. If I hadn't had those relationships, he would have coordinated his own resources. He handled all coordinating with the subcontractors as well, which was incredibly helpful.
NOTE: Bathroom designers are excellent at listening to your needs, intimately knowing the product lines they carry, and understanding the possibilities and nuances of great placement and design. If you need additional design help for things such as paint colors, light fixtures, towel choices and décor? This is where you'd want to engage an interior designer. The bathroom designer will certainly help you identify ideas for your backsplash and flooring, purchases that would be handled separately. For example, I purchased my tile directly from Verhey Carpets.
Make a plan on your own. Hire professionals when necessary.
If you're great at planning and design—which is awesome!—you could hire people for specific parts of the remodel. In this case, you likely purchase your product and handle all project management on your own. This also means being home to meet subcontractors, who aren't always on time.
Be your own designer/project manager/installer.
Always an option for people who know exactly what they want—and how to accomplish it!
Hire an interior designer.
You could hire an interior designer to help you create a plan. How you engage with them will likely vary—some will be your project manager; some might just help with the ideation. Identify what capacity you would like them to help you with—and what price point you're comfortable with—and go forward. Interior designers often work closely with specialty kitchen and bath stores to purchase product or to consult with a bathroom design specialist on products and layout.
If you're going with the in-house designer route, like I did, here are some tips on what to do prior to your first meeting.
Before You Meet with a Designer
Take time to familiarize yourself with your own style. Are there photos or examples of bathrooms you love on Houzz, Pinterest, Instagram or in magazines? Start keeping track of your favorites. I didn't think I had a particular style. Then I showed my designer a Pinterest board I had created. She quickly noticed that so many things I was pinning had the combination of natural wood, bright whites and geometric patterns. I hadn't even realized that—I was just pinning what I was drawn to. I did, however, have some key objectives I hoped to accomplish with my bathroom renovation.
It was helpful for me to be able to refer back to these objectives as the process went on, as it's easy to get swept up in the variety of possibilities. My personal priority items were:
Re-level the sagging floor. (It's a 101-year-old house, so it deserved a little love.)
Move the tub so it was no longer partially overlapping a wooden windowsill. Moisture was starting to rot the windowsill and I was nervous that perhaps some of that moisture was getting behind the tub.
Easily cleanable surfaces. Since I host Airbnb guests, I clean a lot. I wanted to simplify it as much as possible.
Pull out the old closets that left my clothes with a funk.
A mix of visible and private storage spaces. I didn't want guests to have to go through my cabinets to find things like extra toilet paper, but I still wanted private spaces for personal items like medicine, toothbrushes, et cetera.
I no longer wanted to be fully surrounded by shower curtains. I always felt like I was showering in a tube! No thanks.
Keep the integrity of the home to the best of my ability while creating a clean, comfortable, modern space.
When You Meet with a Designer
It was really helpful for me to have my designer over to my house, to see the space and accurately measure. There were all sorts of little design challenges that I wouldn't have known of unless she told me—such as how expensive it can be to move plumbing!—or that she wouldn't have known unless I told her. For instance, I couldn't block one door because it was the only route that allows me to get a queen mattress onto my second floor. Having that opportunity to talk through the design while we were actually in the space was invaluable.
It was also helpful to visit both Williams Kitchen & Bath showrooms. Walking through the space with my designer helped us hone in on the more specific "yes," "maybe" or "not a chance" of product styles. Once I had the general layout figured out, it was relatively easy to walk through the showroom and pick my product—primarily because of a great staff that knows the ins and outs of the different lines they carry.
Additional Comments
The start-to-finish remodel might take longer than you want. There are a LOT of different calendars to line up—contractor, plumber, electrician, painter, product delivery—to finish a project, so don't put an unreasonable timeline out there; it may end up taking the fun out of the finished project.
I almost made that mistake. I got bummed out and upset when a subcontractor ordered something wrong, pushing my finish date out an extra three weeks. But as my mom reminded me, I have made plenty of mistakes of my own. (Shocking, I know!) When the subcontractor apologized, I accepted. I didn't get upset. I didn't ask for a discount. I knew he felt terrible. And I moved on with the rest of the things I could accomplish on my own.
In the End ...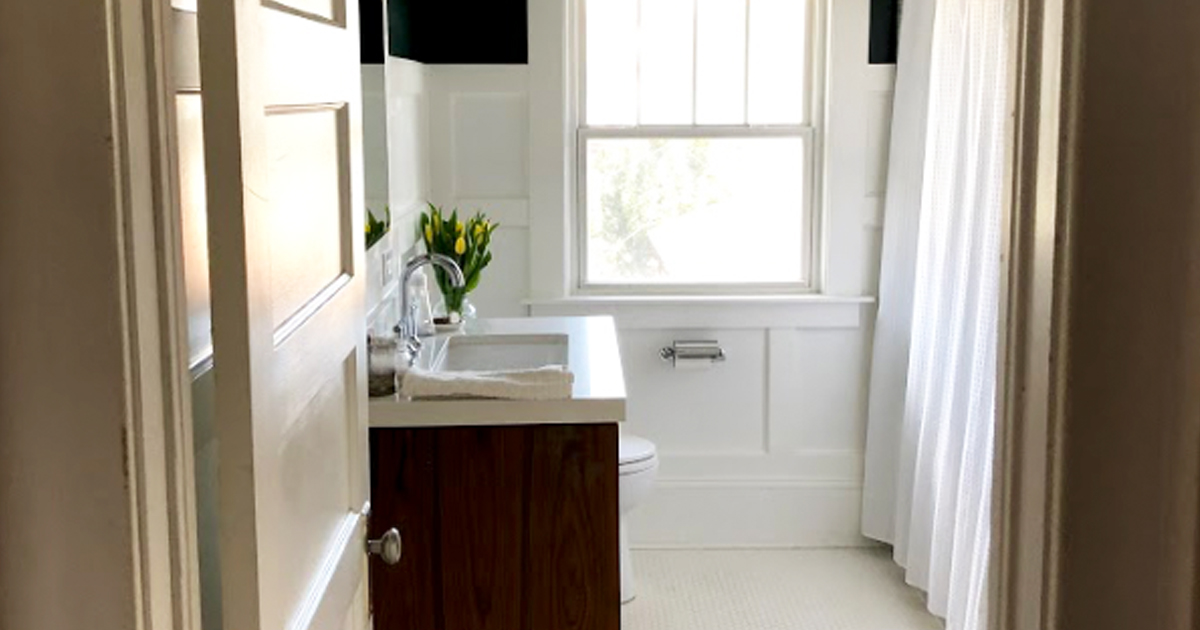 In the end, remodeling my only full bath was so worth it.
I absolutely ADORE my new bathroom. All these little annoyances I would think about every morning while brushing my teeth—"Ugh! I wish I didn't have to store my hairbrush on that peeling windowsill!"—and every night when I was showering—"Ew! One of my guests' naked bodies probably brushed up against this same spot on the shower curtain earlier!" —were finally gone.
I didn't need to splurge for every luxury option along the way. I don't have a heated floor and a dreamy-standalone tub, and I still don't have that much storage. But by setting my own objectives at the beginning of the project, I could remind myself that I didn't need to obsess over having my dream house: I needed to focus on solving my objectives.
If you decide to go through the process yourself—or don't know how to begin—I hope this will help you know how, why and when to engage with a designer. If you'd rather do it all on your own, you can certainly do that, too.
Check out the full effect: Lizzie walks us through her bathroom, before and after the remodel.
Written by Lizzie Williams, a Grand Rapids native who spends her nine-to-fives working on marketing and communications initiatives at OST. She is an Eastown resident, an Airbnb host and an active community member. Lizzie currently serves on the board of directors for both Habitat for Humanity of Kent County and the Saint Mary's Foundation. She also serves on the board of advisors for her family's business, Williams Distributing/Williams Kitchen & Bath.