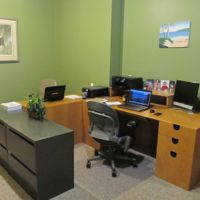 Sherry Benedict, owner of Lynn Marketing, moved her business home twelve years ago. She wanted to be home with her kids, but still keep up with the evolving world of marketing. In the beginning, Sherry's "office" was a desktop computer in the living room–also used by the family. When she teamed up with her husband, owner of Lynn Consulting Group, they knew they needed a place dedicated to work.
For moms and business owners alike, a home office is the solution to getting the kids on and off the bus while maintaining a career. With technology's blessing, business is mobile, and moving home to work seems like the logical step for many women. But the transition from office cubicle to a computer in the den requires discipline, and a good chair.

"I think ideally you need a whole room, because it's not fun to mess up the living room," said home office designer and Principal of Allard Design, LLC Michelle Allard. "If you have a separate space, that's good, especially if you work set hours, you can go in there, close the door…and if the door is closed that means, 'I'm working.'"

Sherry notices herself moving throughout the house now with her laptop. She likes a change of scenery once in a while, and will work at the dining room table or the couch as well as her office. But when it's time to get some serious work done, Sherry needs her solid work surface, and her adjustable desk chair.

Ryan Cook is a Product Marketer at Turnstone. Office chairs are the piece of furniture with which home office users are most concerned.

"Most of the products we sell into home offices are chairs. A lot of people want a really good chair if they're going to be spending much time in an office at home," he said.

Sherry personalized her home office with photos of her children, and a paint color she likes. But she kept it simple, something that Michelle suggests to all her home office workers.

"One or two nice things displayed on a shelf or in a shadow box looks more important…It's fun to have kids' artwork, but again, keeping it to a minimum," Michelle said.

Choose colors that coordinate with the rest of the house, and keep color to one focal point in the room, like an accent wall or rug. These things are easily changed, and other elements in the room, like the color of your storage units or desktop organizers, can compliment the color.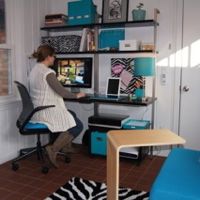 Storage can also be minimal in a home office. With many businesses going paperless, and software storage programs, there is little need for the bulky filing cabinets of old.

"Instead use (clear) file totes or open cubes for stacking. People prefer to see what they're working on. Once you put it away in a filing cabinet, you're not going to touch it. But if you have neat stacks that are more visual, you have access to it, and the more you'll use it and remember it," Michelle said.

What is most important to home officer workers like Sherry is the flexibility it gives her to work and spend time with her family. Although she does miss interacting with co-workers at times, she likes to remember why she moved home in the first place.

"The reason I work from home is to be around my children more. At times I find myself working when they're here, and I have to discipline myself, and work when they are at school. When they get home, we put away our computers, then work again after they go to bed," Sherry said. "You just have to be flexible."
Written by: Erika Fifelski was born and raised in West Michigan, and after a brief stint on the sunrise side, she's home and loving it. Erika enjoys cooking, sewing, vacuuming, and discovering new ways to live sustainably and support local businesses.