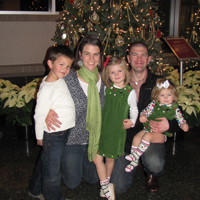 As a mother of three, Melody VanderWeide knows keeping kids active, entertained and stimulated takes variety. She put her multitasking know-how to good use in founding the ever popular, ever updating website for all things kid-friendly, GRKids.com.
Melody was a high school chemistry teacher for ten years and juggled her family and career, but after the birth of her second baby, she and her husband decided to make a change of the stay-at-home-mom variety.

"When our second child was born, it just seemed like life needed a change of pace in order to see my children. When you're teaching, it's rewarding, but when you have your own kids, it's hard to give all of your energy to someone else's children."
As a transplant to the Grand Rapids area in 1995, Melody found herself searching for destinations both she and her three children, ages seven, four and one, could enjoy together. That's when she started GRKids.com. The website is dedicated to directing families to events, activities, and destinations in the Greater Grand Rapids area that provide fun for the whole family, namely the kids.
Melody has no problem exploring her adopted city to find web content. In fact, she often played the tour guide growing up for frequent visitors to her home town, Traverse City.

"I've always been a dabbler in different things. I'm constantly antsy, and coming up with ideas, and I'm not too hesitant to try them," she says.
Moms, grandmas, babysitters, and more will find an abundance of indoor and outdoor activities, and special events housed on the website. A well-kept calendar of events lists activities from open swim to ice skating to story, and music time. Melody is dedicated to maintaining the integrity of the site, and makes it her priority to provide timely information to parents.
"The site is, and always has been, for parents," she says. "It's filling a need, and that's where the website was born, and that's where it's going to stay…I think as long as we stay true to that, there's always going to be a need for it."
Parents like Melody know the that within West Michigan area, there is no lack of new experiences to be had.
"There's something to do all the time. If somebody says that they're bored, they're not on GR Kids! There's no excuse, even on yucky, cold, rainy days. There's something that you can do," Melody says.
Experiencing all that West Michigan has to offer with her children brings a youthful joy to Melody's life that she carries over into her website.
"I'm still discovering the area. I like to explore places I've never been...and going there without expectations. It's so fun to discover thing like that, and it makes you feel like a kid again. That's how your kids see the world. I'm exploring all year around."
Written by: Erika Fifelski was born and raised in West Michigan, and after a brief stint on the sunrise side, she's home and loving it. Erika enjoys cooking, sewing, vacuuming, and discovering new ways to live sustainably and support local businesses. Photo: The VanderWide family poses in front of a Christmas tree at the Frederick Meijer Gardens in Grand Rapids. Provided by Melody VanderWeide.