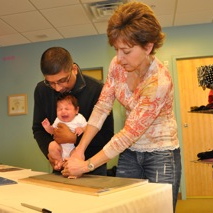 Deana Brownlow's journey to becoming a business owner began with a tiny footstep—but oddly enough, it wasn't her foot. It was her young son's footprint that was the impetus for Captured in Clay.
"Years ago, when we were living in another state, I knew a potter who made clay tile prints of my son's footprints. When we moved to Michigan, I hung the tiles on the wall. All my friends loved them and there were no businesses in the area creating them. And I thought it was a great business opportunity."
Starting a business was not a foreign concept to Deana—she started her own business before, and worked for many years in a corporate environment. Marketing, branding, and structuring an organization came easily to Deana, but there were other aspects of Captured in Clay with which she struggled.
"I'm a self-motivated person, but I had a hard time giving myself credit for what I was doing," says Deana. "I was used to working in a corporate environment and getting recognition from other people. Sometimes I found myself apologizing for not 'really working' but I really was working, just not in the corporate world. Once I stopped looking at it like that, it was so much easier for me."
The creative aspect of Captured in Clay was also a new experience for Deana. She enjoyed the learning curve, from finding which kind of clay she liked best to troubleshooting the operation of her kiln.
"It's been fun learning what kind of product I want to create," says Deana. "And of course, figuring out what my customers like."
Captured in Clay is celebrating 10 years of creativity and memory making in 2012, and Deana is celebrating that anniversary in a number of ways. She is planning on expanding her tile offerings, although right now you can get a tile made for your child, pet, or any other special person in your life. She is also planning on collaborating more with local businesses and charities.
"I have always donated my services and gift certificates in the past," says Deana. "But I really want to concentrate on working on a local scale. As a local business, I think it's so important to be part of the community. I think the support goes both ways—the more I am out there the more people come to me. It's near and dear to my heart."
Learn more about Captured in Clay here or on Facebook.
Written by: Julie Anne has an impressive vocabulary and an extraordinary sense of humor. She has even entertained the idea of doing stand up comedy someday! When she's not writing, you'll probably find Julie Anne at the Farmer's Market or home with her nose in a book.