Mira Krishnan, Ph.D., never really thought she'd stay in Michigan.
Her parents, chemists by trade, arrived from India before their only child was born, believing in the American dream. They moved around the Detroit area, living in Sterling Heights until Mira was in third grade. Life was comfortable; their neighborhood was nice. The area's Indian community held many events.
It was an era of prosperity and an era where children could walk to kindergarten with their classmates. Mira and her friends rode their bicycles, played baseball in the backyard, and were happy. "We had a great time!"
The family moved to Holland during the early 1980s' economic downturn and found a far smaller Indian community. They visited Grand Rapids for groceries, leaving young Mira picturing 28th Street as the city.
After graduating from West Ottawa High School, Mira studied engineering physics at University of Michigan and earned her bachelor's and master's degrees. She worked in the automotive industry for five years before taking a chance on an ill-suited consulting job.
She'd loved solving problems at Ford and Textron, yet the problems didn't involve people. Mira felt that through science, we learn about and invent things for the benefit of humanity. She knew she wanted something else; she considered different fields, yet realized the paper pushing could be "same thing, different desk."
Sometimes, Mira muses, where we end up is dumb luck.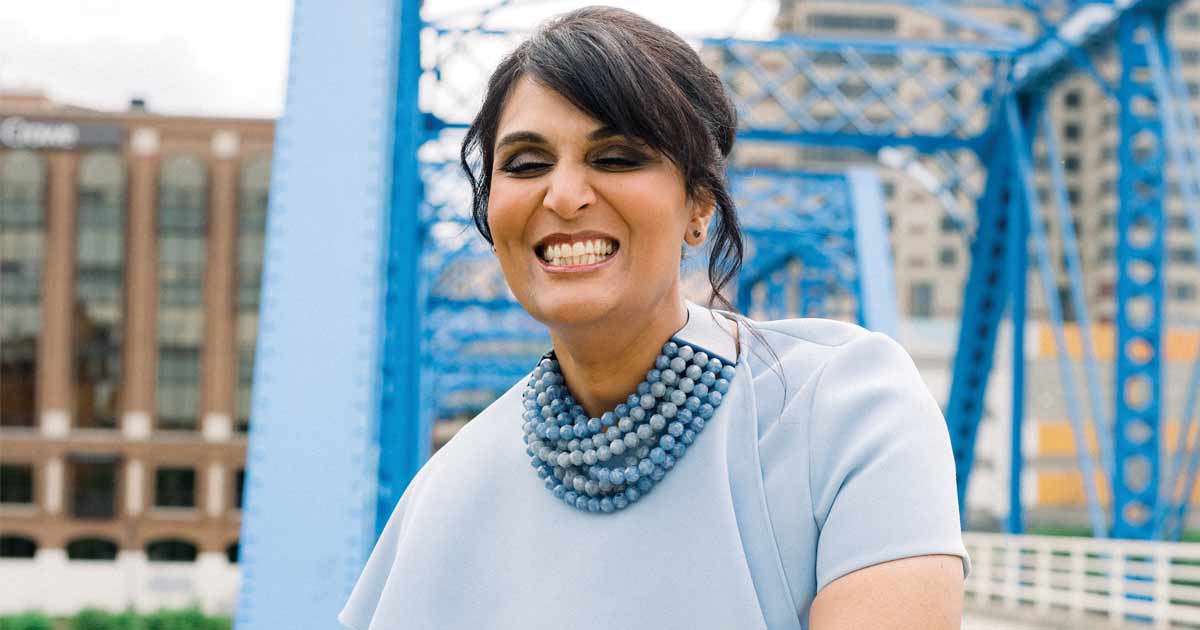 She took Psychology on a lark, at Wayne State University. Human Sexuality—"the most non-engineering class ever"—fascinated her and introduced her to people doing work related to Psychology. Clinical and Neuropsychology intrigued her. "They involved interesting questions and interesting people."
Mira was accustomed to working with adults. "I didn't like working with kids. I was scared of them." Everything changed during grad school. She was so good with the children at Camp Boggy Creek—where she learned to swim in deep water at age 30—that upper grad students thought she was a Child Psychology major. She completed her doctorate in Clinical Psychology at University of Florida.
It was important to Mira to keep seeing children and adults, something less common in her field. Her Neuropsychology internship at University of Chicago aligned with this. Her residency and fellowship brought her back to Michigan, at Mary Free Bed Rehabilitation Hospital with world-renowned Dr. Jacobus Donders. "He's really fantastic!" She didn't work with children during that time, though, and missed it.
As she applied for traditional jobs, Hope Network appeared. Mira likes "a mixture of things" and appreciated the opportunity to give to the community. She became director of the Center for Autism and connected to many people of importance. She advocated for change, trying to build better resources for children who could benefit from access to Applied Behavioral Analysis (ABA)—an expensive therapy allowing them to better integrate into the larger world. With extensive support, then Lt. Gov. Brian Calley led the charge to enact insurance reform covering ABA; Mira helped write the related Medicaid policy that would cover what the children's primary insurance wouldn't.
Mira, a board-certified neuropsychologist, spent nearly five years with Hope Network. While there, over several months, she came out as transgender. She'd known who she was as a 5-year-old, though she hadn't known then it was possible to become that person; that it wouldn't require "magic or alien technology."
Everyone was supportive, yet she had concerns. She was afraid of hurting her parents. She was running the center to which parents entrusted their children. "Things we don't know are scary. God gives us gifts to use for society. I didn't want to give up what I was doing."
She came out to individually to the overwhelmingly supportive families she worked with. She developed the courage to tell her parents, practicing with trusted people.
"My dad said, 'I don't know why you came all this way to ask us if we accept you. Of course we accept you; you're our child.' My mom said if anyone had a problem with me, they had to come through her."
Mira came out openly. She had a voice in Grand Rapids. She became more invested in her community. She didn't lose anyone. "Supportive people in my life are important to me." She was empowered to leave Hope Network and start her own business, building upon her dreams. She appreciates the work of Bonnie Nawara and GROW, where she took classes and met other professional women. She presents at conferences, talking about autism and LGBTQ, speaking nationally several times a year.
She's proud of her chance to build an autism family here. "When I see the things my patients are accomplishing, and the way that our community has energized, I am so thankful to be a part of it."
Mira and her fiancé, Teri Jourdan, a transgender man, met when he held the door open for her as they arrived at the same venue. "Our eyes met, and it was love at first sight."
She and Teri like their community, culture, neighborhood, house and cat, Iago. "He's a good boy." They enjoy the ability to easily go elsewhere. "Grand Rapids + travel is perfect!" They frequently visit Chicago, where Mira once lived in Hyde Park, 2½ blocks from Barack and Michelle Obama. The University of Chicago neighborhood, predominantly African-American, was a bastion of the black middle class and a great experience. "It's good to have a broader perspective."
Mira is a runner who enjoys yoga. French and Italian cooking with an Indian touch is a joy, as is learning sous vide and other new techniques. "I just bought a brûlée torch." She loves 17th- and 18th-century literature. Her rose-cut diamond engagement ring was crafted in the 1760s. "The Constitution wasn't even signed then." She's a fan of Grand Rapids Ballet, Opera Grand Rapids, Actors Theatre and other arts. She wants to start a small collection of art by early woman painters.
She learns from the world and from experiences.
"Buddhist teacher Pema Chodron has a wonderful term: 'Lean into the sharp points.' In essence, pain and fear can sometimes point us in the direction of growth opportunities." Mira cherishes her experiences. "I still run headfirst in the direction of my passions. But now I know that, even when I do change my mind about where my life is going, I will have had amazing adventures and be well poised for my next adventure."
Mira finds it important to take time to reflect on life and pray or meditate on the love, energy, and passion around us. "Many buzz phrases we hear become a waste of energy because we say them without really thinking about them.
"Life is simple. But living it is the greatest and most wonderful challenge we have."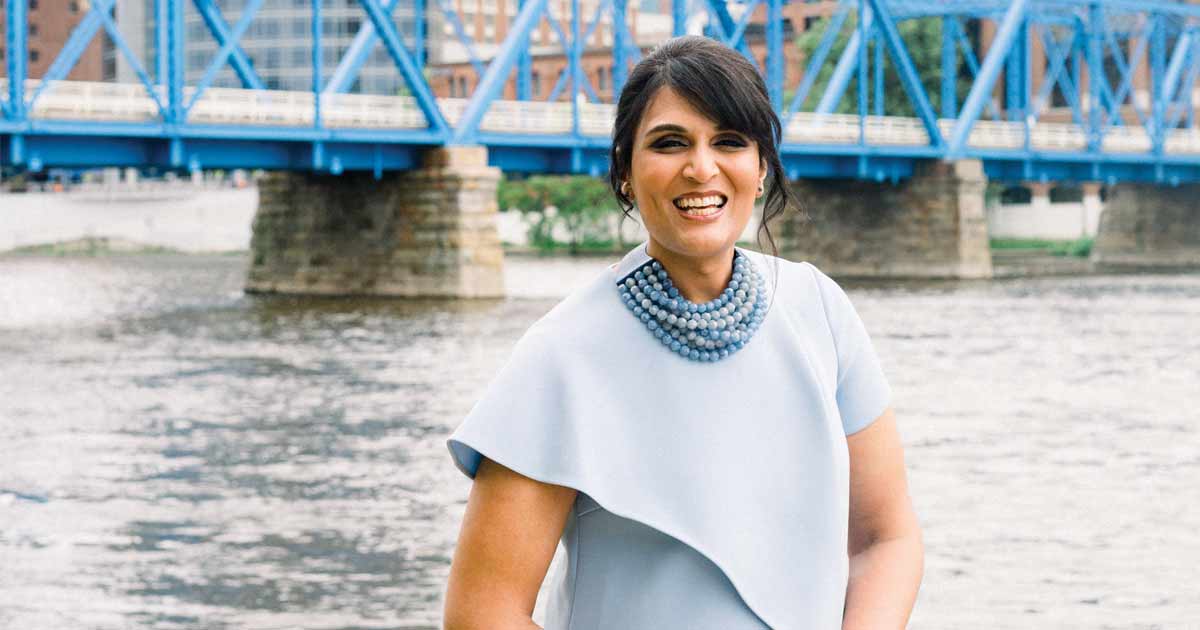 Written by Amy L Charles, Editorial Director for West Michigan Woman.
This article originally appeared in West Michigan Woman.
Photos courtesy of Kelly Braman Photography.