When she's not eating or sleeping, Rebecca Cruttenden is swimming, biking, and running to train for her yearly Ironman triathalon—basically, taking on the world. But that's not all. She's also baking and delivering cookies, speaking, and coordinating volunteers for her business, Clara Cookies.
These are no ordinary cookies, however.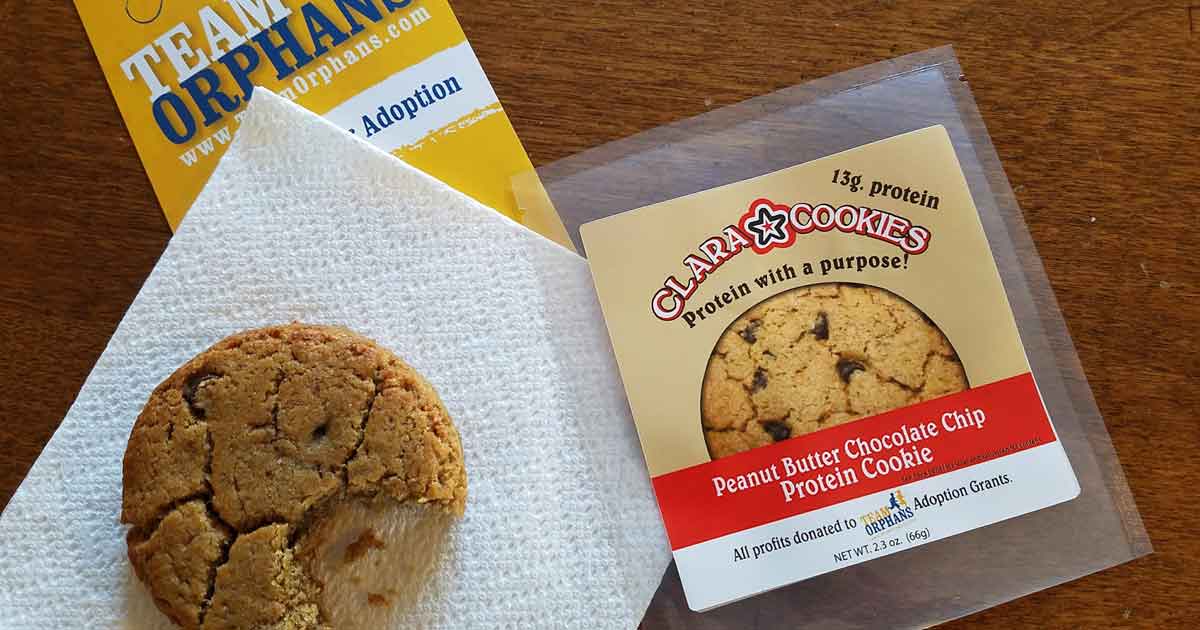 While training for her Ironman races, Cruttenden found she desperately needed a better tasting, easier to digest protein.
"It was actually my husband's idea—he kept telling me to come up with a protein cookie every time I would complain about needing better food," said Cruttenden. "It took two years, but I finally listened."
Cruttenden created a gluten-free nutritional snack that tastes like a delicious cookie but also has plenty of protein and good fats from ingredients like natural peanut butter or organic coconut oil.
"The peanut butter cookie in particular has 13 grams of protein and is my training and racing cookie," said Cruttenden, noting that Clara Cookies are made with mostly organic ingredients and non-GMO organic soy protein powder. "It's more expensive than the whey protein used by most of the bars on the market, but it doesn't have the protein flavor of most bars, so Clara Cookies tastes like Grandma's cookies!"
From there, Cruttenden was baking cookies for herself, in addition to family and friends—who were adamant that she start her own business.
"It took another year for me to listen to that part, then another to raise start-up costs, but we finally launched Clara Cookies on May 5, 2016."
Today, cookie lovers of all kinds can enjoy flavors including peanut butter chocolate chip, coconut dark chocolate chip, orange cranberry, lemon poppy seed, snickerdoodle or dark chocolate chip with roasted almonds.
You might be wondering where the name of Cruttenden's now-thriving cookie business comes from.
That's where these cookies get even more extraordinary.
"Adoption has been on my heart since I was 12 years old and babysitting some kids who were adopted," said Cruttenden, who's three grown children were adopted from Russia. "After I raised the money to adopt our kids, I started doing fundraisers to help other families—yard sales, bake sales, jewelry shows ... All kinds of things."
In 2010, Cruttenden founded Team Orphans, which specifically raises money for international kids—including those with special or medical needs, those part of a sibling group at risk of being separated, and older children with a low chance of being adopted.
"I train and race one Ironman triathlon every year and try to raise $25,000 or more for Team Orphans each time," said Cruttenden. "Clara was adopted with money raised from my Ironman Arizona back in 2012. When I was thinking of a name for our cookie business, Clara was the perfect name because it's all about the kids."
Clara's picture and story can be found on every cookie wrapper, representing all the kids in the world who need a family. A full 100 percent of profits from Clara Cookies go toward Team Orphans adoption grants.
"Team Orphans works with six adoption agencies around the country, including Bethany here in Grand Rapids, to offer grants to families adopting international kids with special needs," said Cruttenden. "If a family is in financial need, we can offer up to $10,000 in grant money to help pay for the adoption."
Cruttenden knew from the beginning that it was important for Clara Cookies to be 100 percent volunteer owned and operated.
"We have all volunteer bakers, including students who love to help us in the summer," said Cruttenden, noting more than 45,000 Clara Cookies have been sold. "We have all kinds of student and adult volunteer groups put the sticker labels on our cookie wrappers. We also partner with the special education classroom at Rockford High School, where the students help stuff bags and get lids marked for all of our cookie sampling."
The ultimate goal, Cruttenden said, is to raise $1 million for kids with special needs in her lifetime. She's currently sitting at $245,000. In her not-so-spare time, Cruttenden can be found at local retirement homes with her five-year-old therapy dog, Storm—a "gentle giant" Australian Shepherd.
Want to try Clara Cookies for yourself? There are roughly 30 West Michigan locations that carry Clara Cookies, among them Kingma's Market, Baker Book House Coffee Shop, Alpine Family Fitness, Rockford Ace Hardware and the Grist Mill. Additionally, all 15 Hulst Jepsen Physical Therapy locations in West Michigan have cookies on the front counter, for anyone to purchase.
Interested in volunteering? Cruttenden will welcome you with open arms.
Learn more at Clara Cookies.
Written by Sarah Suydam, Staff Writer for West Michigan Woman.
Photos courtesy of Rebecca Cruttenden.