You've navigated downtown Grand Rapids juggling a walking taco, wedge of baklava and Boba smoothie.
You've marveled at the scores of West Michiganders who have flocked to the city to join in the festivities (and secretly wondered where they all came from). You've watched talented dancers, musicians, performers, artists and demonstrators share their craft on stage, in the streets and under tents.
But have you ever contemplated just what goes into putting on this three-day extravaganza known as Festival of the Arts?
It's a lot.
A lot, a lot.
Now in its 49th year, Festival of the Arts began in 1970 as a small, one-day event with two stages and a few food booths. Alexander Calder's La Grande Vitesse (French for the great swiftness or the grand rapids), which was installed in front of City Hall a year earlier, inspired local art organizers to establish the free event. Fun fact: It was Alexander Calder who created Festival of the Arts' sun logo, which is still used today.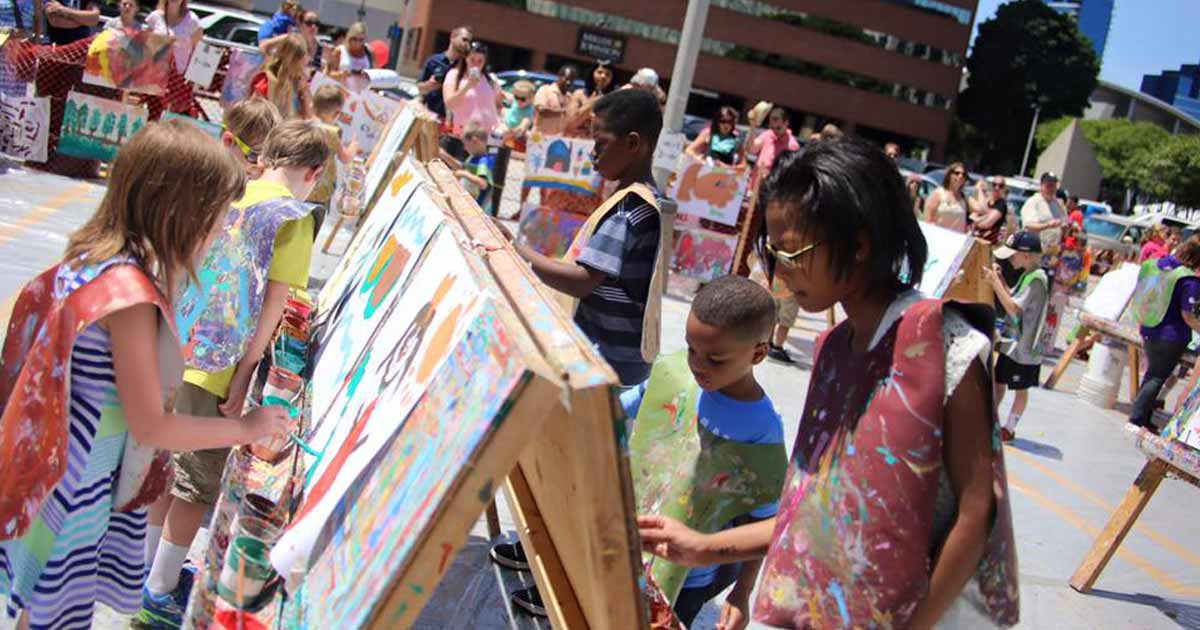 These days, the festival draws nearly half a million visitors yearly and encompasses more than 200 activities and performances—with all local participants from eight area counties: Allegan, Barry, Ionia, Kent, Montcalm, Muskegon, Newaygo and Ottawa. To make it a success, the event requires a dedicated team of hundreds of volunteers and a 16-member board of directors.
Co-chairs of the event have been integral, volunteering their time for up to three years: one to prepare, one to execute the current year, and one to mentor the team that is responsible for organizing the event the following year. This year's co-chairs—the last traditional ones—are Jessica Nix Gould and Melissa Bush.
By day, Jessica (Jessi) Nix Gould is a sales associate and project manager at John S. Hyatt & Associates, Inc., a custom theatrical solution that builds the majority of the theaters in West Michigan, as well as many in Wisconsin and across the United States. Prior to this position, Jessi was an event planner and lighting design specialist.
It wasn't just love of the arts that brought Jessi to the festival; it was also her affection for a certain guy who invited her to be co-chair of the lighting committee. That was in 2010. And Jessi is not only still dedicated to the festival, she's also happily married to that same guy.
Melissa (Missy) Bush spends her days as the membership manager at Frederik Meijer Gardens & Sculpture Park. Prior to that, she was the membership manager at GRAM. She first started volunteering for the festival in 2011, when the Regional Arts Competition, which is part of Festival, was held at GRAM. She's been back to volunteer every year since.
Missy enjoys working with data and databases, which is her primary function at Meijer Gardens. And, in case you're wondering, working at the Gardens does have its privileges—especially when it comes to the Summer Concert Series. Each employee gets to attend one show for free, and, this June, Missy will be enjoying Old Crow Medicine Show.
Though co-chairs have the same responsibilities, they tend to divide and conquer according to their abilities. Missy said, "Jessi is so much more familiar with the layout and how everything will fit within the festival footprint, while I'm better at handling the communication."
"It works out well," Jessi said. "We each have strengths that the other doesn't, and we recognized that really early on. It makes us a good team."
Most of what they do as co-chairs is attend and hold meetings. Lots of meetings: with the many different board and committees involved, and also with each other. It's about four per week, after work—not to mention early-morning and late-night emails. Volunteering in this capacity for the festival is pretty much year-round, but in about February it starts to get serious.
This year, Festival of the Arts runs June 1 – 3 and will feature some exciting new additions. For the first time—and long overdue, according to Jessi—they'll be bringing local comic book artists to Rosa Parks Circle both Friday and Saturday evening. There's also a Sixth Street Bridge photography competition, which will occur only in 2018. There will even be a demonstration tent with potters, wood turners and printmakers.
What's in store for next year, the event's 50th anniversary?
Well, we know the festival hired David Abbott as part-time interim Executive Director (the only non-volunteer in the festival's history).
"I'm so honored to be mentored by both Jessi and Missy in all things Festival of the Arts," David said. "From my first day, they have fueled all of our spirits toward another great year!"
This year and beyond, Missy, Jessi and David have big plans to honor the event's legacy while bringing a new energy to its future. If you plan to attend Festival this June, be sure to give a high-five to all the volunteers you see—they put their hearts (and a whole lot of time) into bringing this wonderful event to the West Michigan community!

Allison Kay Bannister, a West Michigan resident since 1987, professional writer since 2002 and GVSU alumna, recently launched her own freelance writing business. Allison enjoys travel, art, dance, food and exploring world cultures—and, of course, writing about all these and more.