"I've been around art my whole life," said Cindy Awrey, 2018 Tulip Time® Festival Poster Competition winning artist.
Her painting "Together" was selected from a total of 99 works from 47 artists.
"My mom was a self-taught artist," Cindy said. "She had this little spot, little corner, in the kitchen where she painted."
Cindy's mother, a photo colorist for film black-and-white photos of past decades, would bring Cindy along to art fairs and competitions featuring her paintings. After graduating high school, Cindy moved from her Benton Harbor / St. Joseph home in Southwest Michigan to attend Kendall School of Design in Grand Rapids.
She graduated with a degree in illustration and began her career as a children's illustrator for Ohio Art Company in Bryan, Ohio. Missing a bigger city, she returned to Grand Rapids and worked as the Creative Art Director and Designer for Children's Apparel at H.H. Cutler Company. There, she worked with licensors like Disney, Looney Toons and Steven Spielberg's art director to design children's clothing.
Following the birth of her twin sons, Cindy retired from illustration and eventually tried her hand at fine art.
"It was time. My creative juices were exploding."
She took pastel classes, and pastels evolved into oil painting. During that time, her family moved to Holland. Cindy became involved with a group of artists—called The Artists Nine—who gather to paint, share tips and inspire one another to create.
"I love the whole creation part of God—the first verse in the Bible is 'and he created.' I think everybody gets different gifts, and I think he gave me that gift. When you have it, you just can't help but use it."
Cindy enjoys painting landscapes and still lifes, and has a particular affinity for flowers. She has submitted artwork to the Tulip Time Festival Poster Competition for the past five years, and her work has been featured in the Top 20 four years in a row.
For this year's competition, she was "down to the wire."
"Together" began as a graphic approach utilizing black and white tulips on reversed backgrounds. "I think those black tulips are a riot. They're different," Cindy said. "I love painting white flowers, too. There are so many colors when you look at the white. So many colors."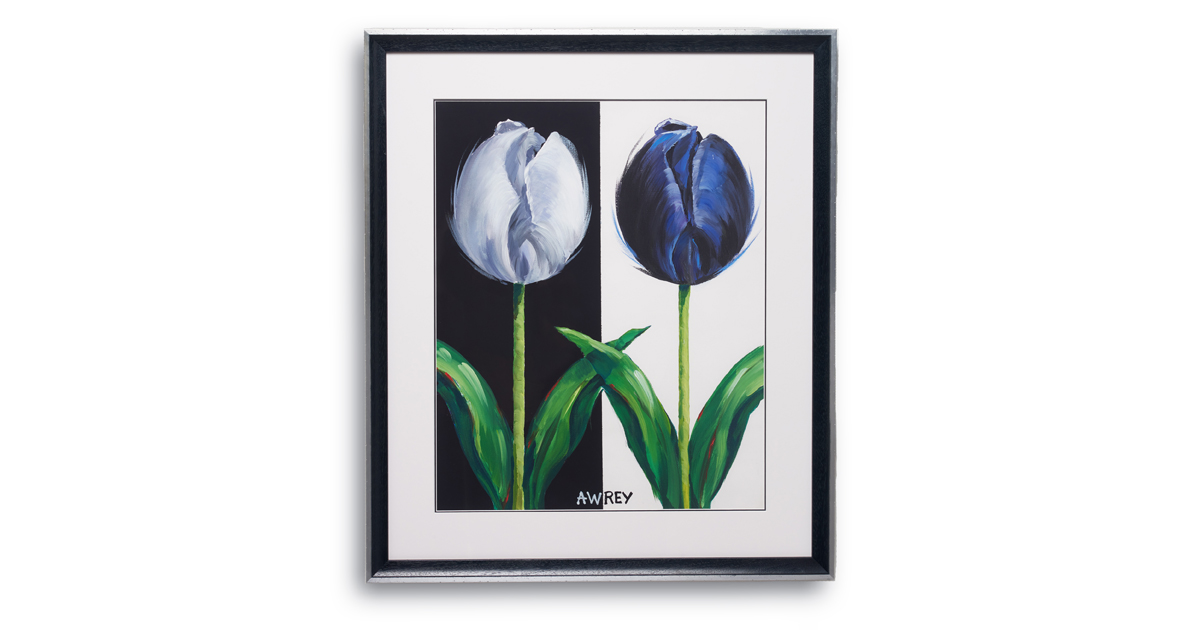 As the painting progressed, she began to overlap the tulip's leaves, and the "together" theme emerged.
Tulip Time Festival attracts people from diverse backgrounds and all walks of life, and her painting reflects coming together.
"People come from all over to Tulip Time, to this small community. We're sharing that. It's really a wonderful thing."
"Together" and the other Top 20 original works will be on display at the Holland Area Arts Council during the Tulip Time Festival, May 5 – 13, 2018. "Together" is featured on posters and other festival merchandise, available at the Tulip Time Festival office, on the festival's website and at Holland area galleries and shops.
Written by Cassie Westrate, staff writer for West Michigan Woman.