A new boutique in East Hills boasts not only ethical and fashionable clothing, accessories and home goods, but a place of encouragement and reflection in faith.
Adored Boutique opened December 2016 in the Uptown Shopping District. The 1,200-square foot building was previously Cheveux Salon and the owner, Emily Smith, is thrilled about the location and the new course her life has taken.
Smith was in Nashville, Tennessee, at a philanthropic boutique when the idea to open Adored Boutique touched on her heart. "I walked into this
boutique and I had this kind of Holy Spirit encounter that I had never had before.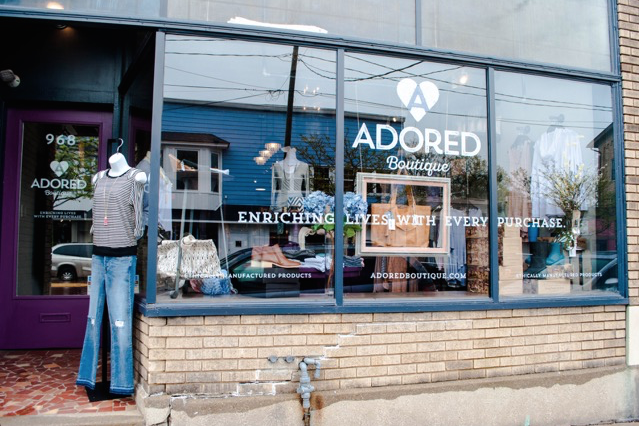 "I felt this tremendous joy and I couldn't quite figure out why or what it was about at that time."
Smith didn't buy anything at that point, but felt it was God's first demonstration of what he was about to place in her life.
A couple weeks later, Smith went on a mission trip to Cuba when she was struck with inspiration to upend her life as a registered nurse.
"God placed [Adored] in my heart." While on the trip, Snith worked with women who were exploited and oppressed by their government. During the course of trip, it was revealed to her that opening Adored Boutique was exactly what she was meant to do.
"I was wrestling with it, because I was starting to recognize what He was calling me to, and it was really scary for me," Smith said. "I wanted to honor him, but I had no idea about retail—and the idea of changing careers and starting a business, and knowing nothing about it freaked me out."
Smith and her family prayed on it and, eventually, worked together to open Adored Boutique.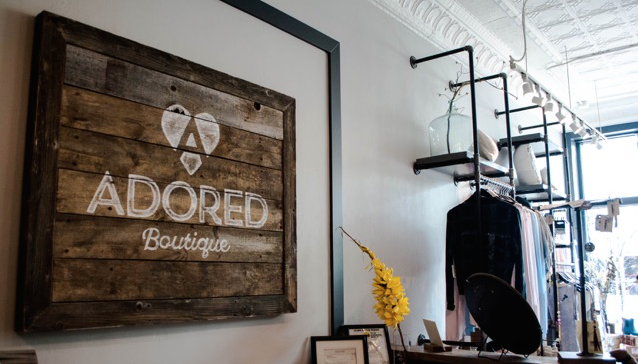 Her mission with Adored goes beyond providing conscious clothing that enriches lives with every purpose. Smith says it's for those who have been rescued from exploitation around the world and for women who shop there, providing them with an empowering setting where they can "embrace their true identity and know they are adored."
Smith's journey led her to do her own thing and come to an understanding of what she was meant to do, finally settling on creating a physical space where she says God could start showing other women in their hearts their worth and their true selves.
Ethical manufactured clothing is defined on Adored Boutique's website by the way employees are treated: Smith only buys from vendors that respect their employees and pay their workers fairly. She has pieces in the boutique that are Fair Trade Certified, but for various reasons, not all vendors who operate with ethical principles have that certification. Smith is sure to vet all vendors before purchasing items from them, to be confident they are treating their employees with respect.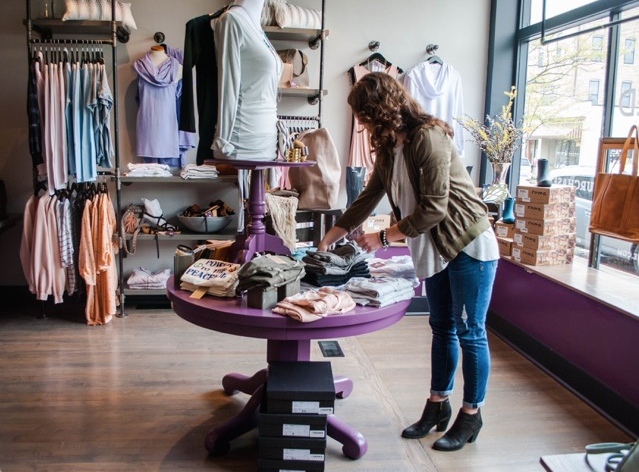 Adored Boutique donates 15 percent of all profits to charity partners, locally and internationally, and Smith notes the margins at Adored are below industry standards.
"I wanted a way to introduce ethical fashion to people who may be unaware of it."
The boutique is a beautifully decorated space, combining rustic and industrial elements with glamour to create a place where women can find a variety of trendy pieces, as well as classic items that can be worn with confidence and good-conscious every single day.
Written by April Simone Stevens, a recent Grand Valley State University alumna and beauty blogger who enjoys dabbling in graphic design and video production. Residing outside of Grand Rapids, April Simone enjoys beer tasting, delicious food and visiting Grand Rapids Art Museum as often as possible. Follow her on Instagram at @spotlightvanity for updates.