"You are a leader from the seat you're in."
Janis Petrini sits in a small office. Anyone might sit across the desk from her: anyone searching for a job; anyone searching for an employee; anyone searching for ways to build their career, company or organization.
Janis' business, Express Employment Professionals of Grand Rapids, provides a unique blend of personalized service with proven knowledge and capabilities for supporting individual employment and company success. Anywhere from recruiting, to retaining to development, Janis and her staff bring considerable skills and commitment to the full range of staff development for both individuals and organizations.
"When I had the opportunity to get involved with Express, it was a great fit," Janis said. "It's not just helping people find a job. It's helping people be their best self."
Help she does. Since opening her doors in 1996, Janis and her staff have worked with over 800 different companies in the Grand Rapids area and have connected 17,000 different people with a job—most recently averaging 2,000 to 3,000 individuals each year.
"All of the people here are inspired to help people," Janis said.
And that's not just in the daily tread of meetings, interviews and other office work.
"Every one of our team members is involved in an organization of their passion," said Janis.
Both individually—and as a team—Express employees volunteer with businesses and organizations in the Grand Rapids area seeking to help the community. Four times each year, Janis' team works together to host a community drive to donate to food banks, projects and other nonprofit organizations.
Personally, Janis sits alongside a high school freshman, whom she's mentored for four years through One Wyoming. She sits on the board for the Employer Assistance and Resource Network (EARN), the board for the Dove Foundation and the Board of Directors for Mel Trotter Ministries.
"Work and life is all mixed together," Janis said. "It's all joy."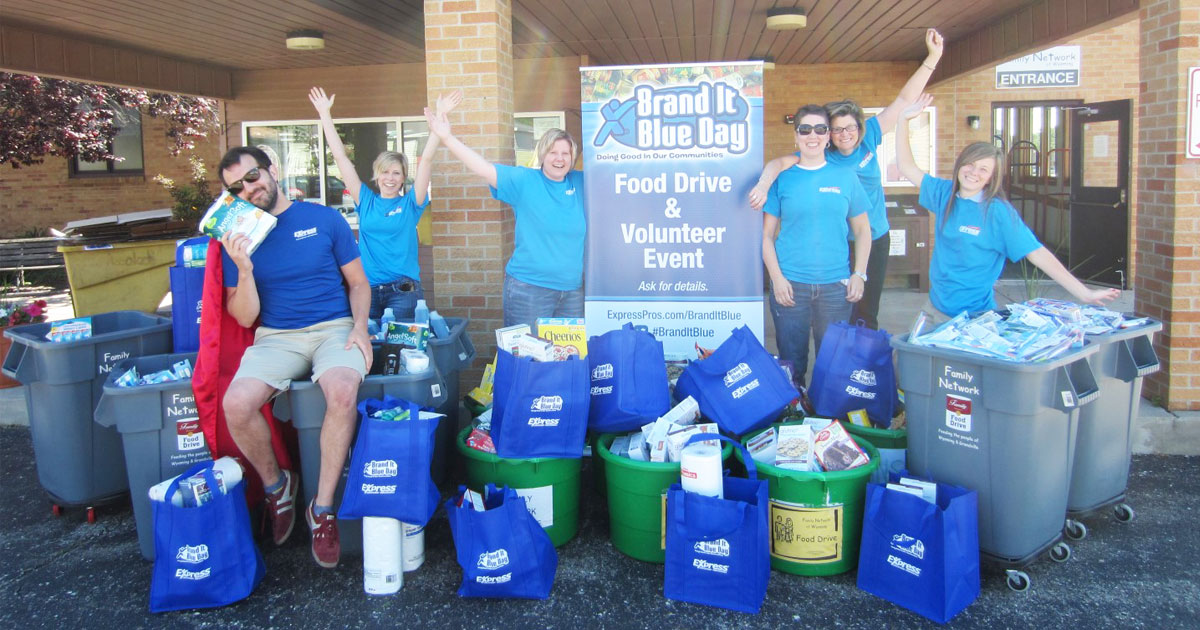 Janis worked in the restaurant industry, traveling around the country, for 11 years before settling in Grand Rapids to start Express and raise her three young children.
"I've never lived anywhere where people are so committed," said Janis. "I think we have great leadership."
Who are these leaders? Everyone, according to Janis.
"Everybody has the ability to be a leader from their seat. Leadership is about influence. Everyone has the ability to influence someone."
Through both her business and personal life, Janis seeks to influence people to grow beyond their position in life. She wants people to ask themselves how they can continue to invest in themselves, in their company, in their family and community.
"My hope in life is that people realize their God-given potential and that they use that to help others realize their God-given potential," Janis said. "There's no perfect place and no perfect people. We're all flawed. But you need to learn how to respond. Challenge yourself. There's more at stake than just you."
When Express Employment Professionals opened its door, Janis staffed three employees. This year, her office is celebrating its 20-year anniversary in a new building, located just a short drive down 44th Street from their old location. Their new building hosts a community space for job development and training sessions.
Janis' family has grown in the past 20 years, too. Her three children are all married, and Janis will be a grandmother to three by December.
Written by Cassie Westrate, staff writer for West Michigan Woman magazine.