From Belarus to Siberia to Egypt to ... Holland, Michigan? The 2016 Tulip Time Festival poster winner's path was a circuitous one, filled with obstacles and emotional hurdles. Her mother introduced her to art at a young age, providing a lifelong creative outlet for this inspirational woman. Her winning painting, "Spectacle," is a mixture of brush strokes and paint splashes that casually dance across the canvas. It is truly an original piece of art, just like its creator. Looking at the painting, you will witness the joy that is Alla Dickson.
Growing up in the former Soviet Republic wasn't easy for Alla. She witnessed the impact of extreme hardship and despair. When her father, a military officer, moved the family to Cairo, Egypt, Alla's eyes were opened to a new way of life. Not only did she learn about different people and their culture, while in Cairo she also learned the English language. This skill later landed her a job as an interpreter for a Siberian adoption agency. While working at the adoption agency, Alla met Tom and Lynne Walker, of Holland, Michigan. The Walkers played an instrumental role in bringing Alla to West Michigan. She saw coming here as her "chance to survive." Of the Walkers, Alla says, "We are one family."
Shortly after her arrival in West Michigan, Alla began working at an adoption agency. She was raising her daughters and working as the director of the agency's Eastern European adoptions. Her work was rewarding, yet demanding. Five years ago, Alla choose to focus solely on her artistic pursuits.
"Painting has always been an outlet for me. I've had to work through many difficulties in my life, but in doing so I have found my joy. You find your joy when you overcome your problems."
Enter the Tulips!
Before moving to Holland, Alla was not acquainted with tulips—or any other flowers for that matter. "There just aren't very many flowers in Siberia!" That changed when she began volunteering at Holland's Veldheer Tulip Garden. While caring for these spring flowers, she found they began to "talk" to her. Alla not only works in the garden; it also serves as her personal tulip-painting studio. "Last year, I became addicted to tulips and painted 40 small pictures of these flowers." These paintings, along with art by Carolyn Stich, the 2015 Tulip Time Festival poster winner, are now part of the dual exhibit The Art of Living with Joy. This exhibit is on display at the Holland Area Arts Council until February 27, 2016.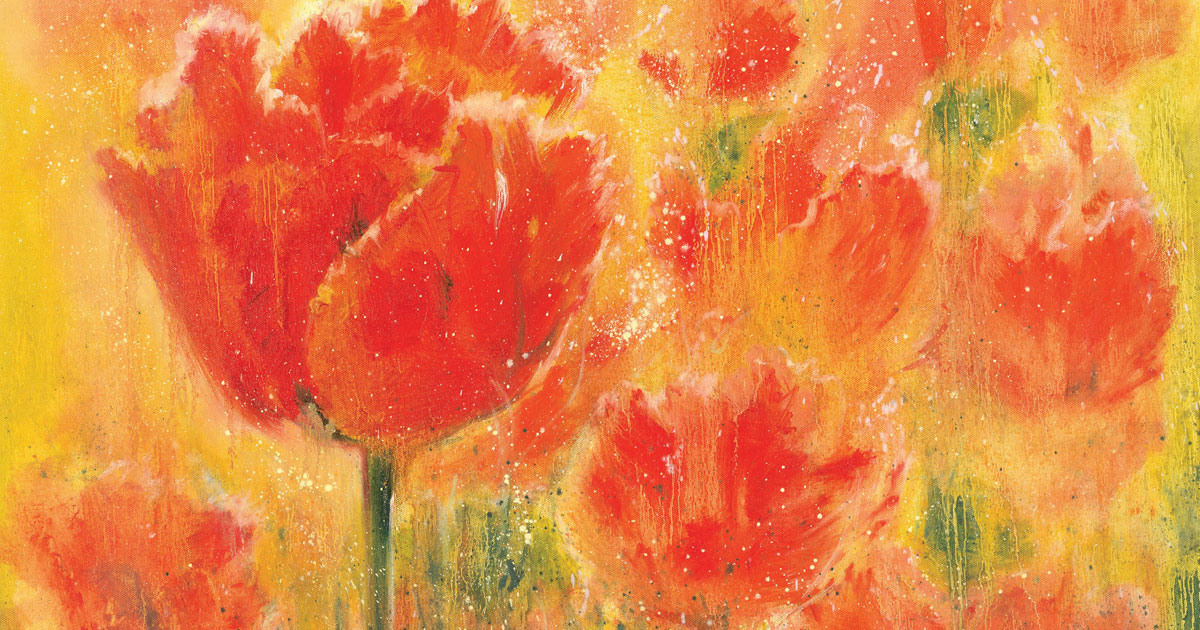 A True Spectacle
When asked about "Spectacle," Alla responded with a smile that revealed her connection to this piece. All entrants in the poster contest are allowed three submissions. Alla worked fastidiously on her first two submissions; on her third piece, she took a different approach. "At 11 p.m., I had some leftover paint. I had no idea in mind. No composition. I forgot about the contest and decided to paint freely, no pressure." The end result of this free-flow method was a beautiful, winning work of art.
"This painting reminded me how important it is as an artist to just be yourself. I had to forget about the contest and be true to myself."
While Alla was awarded the Art in Bloom Viewer's Choice award in 2015 for her painting "Vivacious," this win was different. To Alla, this win signified acceptance. "As an immigrant, I always feel people notice my accent, my differences. With this win, I am now officially a Hollander. I am one of you!"
You can find Alla teaching classes at the Alla Dickson Fine Art Studio in Zeeland or digging in her backyard garden. No matter where you encounter this passionate woman, you will always be greeted with the smile of a person who has truly found her joy.
Written by Lisa Stickler, staff writer for West Michigan Woman magazine.