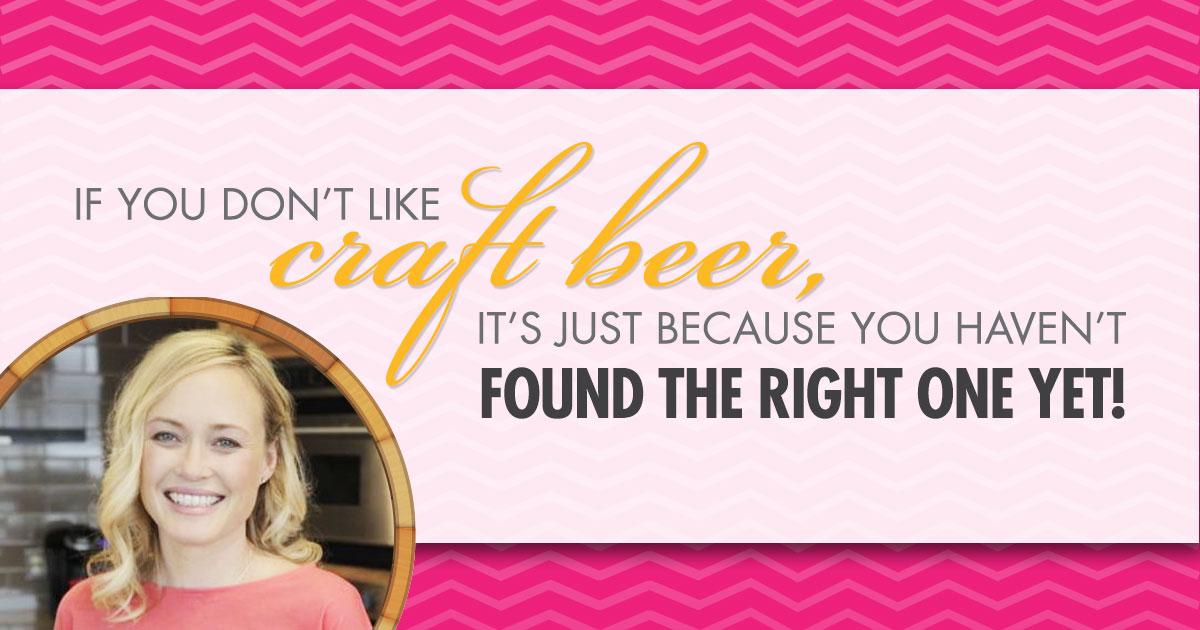 Craft beer enthusiast Amy Sherman's reputation as a champion of local food has been fueled by her time working as a chef at local restaurants, by teaching for various culinary programs, and by her television show, The Great American Brew Trail.
West Michigan Woman is thrilled that Amy will be joining us for Ladies Pint Out!, sharing her expertise on appreciating and pairing microbrews during an evening of good food, good beer, and good company. We caught up with her to find out where's she's been drinking lately, what's making her happy, and what's new on the "foodie" scene in West Michigan.
This summer I've been doing a lot of traveling for my radio show Behind the Mitten with John Gonzalez and Amy Sherman. It's been really tough—I've had to go to Mackinac Island three times this year, already! I love going up there now, because I feel almost like a resident. Mackinac has several different places that have beers that are brewed just for them, and that's the only place that you can try them. If you visit, head to The Grand Hotel, Mission Point, The Pink Pony, or The Mustang Lounge to try their custom beers. I also just got back from Québec, and I drank a lot of great Canadian beers up there that we don't get here. I love drinking local wherever I am!
Food is my passion! I've been a huge advocate for local food and farms for close to 20 years now, so that is a big part of my life. As well as being a chef for my entire "professional" career, I founded the local Slow Food chapter, am an owner/manager at West Michigan Farmlink, and have done countless educational events, lectures, and classes about our great local food scene here in Grand Rapids. My other great loves are my family, which includes my husband, Gerard Adams, and my three teenagers. (Yikes! How did that happen?) They keep me super busy. I love to travel, anywhere and everywhere, but Italy is my favorite. I'm fanatical about World War II. I love to read, everything and anything.
I love that local food is finally taking center stage in West Michigan. Actually, I should say center of the plate! So while this is old to me, to many of the younger chefs, it's a new idea. I hope they continue to embrace this. I'm looking forward to the day that chefs don't even have to say 'we buy local' on their menus—it's just assumed that of course they buy local!
Things I'm looking forward to are the opening of the new Harmony Hall on the West Side, as well as the opening of the huge New Holland complex. Both of these places will be welcome additions to the West Side. For food, I'm partial to Osteria Rossa, both because they are kicking out some amazing stuff, and because I think their desserts are pretty good, too. (I do have to reveal here that I'm the pastry chef.) Another company I love is BLiS Gourmet. They are producing incredible barrel-aged products, right here in Grand Rapids, used by top chefs all around the country. Look for their products around town at specialty stores.
I'm so excited about Ladies Pint Out! One of my favorite things to do is to turn someone on to craft beer. I always say that if you don't like craft beer, it's just because you haven't found the right one yet. Teaching people how to taste beer, talking about the breweries, introducing them to all the different styles and flavors is incredibly fun. Whenever I get to share my passion with people, I get really excited! Hope to see you there!
Ladies Pint Out! is July 29, from 5 p.m. – 8 p.m., at Watermark Country Club. Click here for more information.