Think of the last time you had an extraordinary seductive meal. One that arouses all the senses.
The kind where every single bite gives you that "moment," much like Meg Ryan had during the infamous When Harry Met Sally scene where she slowly savors a sandwich at Katz's Delicatessen, then vocalizes her delight—or when Mickey Rourke raids almost everything in the refrigerator to entice the taste buds of Kim Basinger in Nine ½ Weeks. (You'll want to Google it when you're "off the clock.") Both film scenes use food as a sexual tool to bring the romance to intense new heights.
Terra GR Chef Clark Frain says creating a sexy meal that gets the heart racing is more about the thought behind it.
"The actual effort, I find to be very sexy when you decide to cook a special meal for your significant other. The simple act of cooking for someone else is very special. The sincerity of finding out what that other person really enjoys and catering to their needs is very important. You can even attempt to re-create a special dinner or meal from a previous memorable date."
Naturally, most think about using ingredients considered to be natural aphrodisiacs: chocolate, oysters, strawberries, figs, even chili peppers. Chef Frain also enjoys looking for luxurious items not available every day, such as lobster and wagyu, or that are in peak season. The day I stopped in, he created a dish using seared scallops, brown-butter-basted celery root and apple puree, strawberry jalapeño sauce, and blood-orange salad with mint, pistachio and brown-butter foam. Watch the video below to see the sexy meal magic happen.



When asked if presentation or taste is what ultimately makes a meal sexy, Frain admits he went back and forth on this question. "Ultimately, I feel like many, many dishes taste amazing, but when it comes to sexy, it is all about presentation. I'm looking for luscious sauces. I want to use items that you don't have to work a lot when you're eating it. You can totally get sexy with meat. It's about how you prepare it. You can do a nice crust with great flavor that when they eat it, they're going to say, 'Wow...this is amazing.'"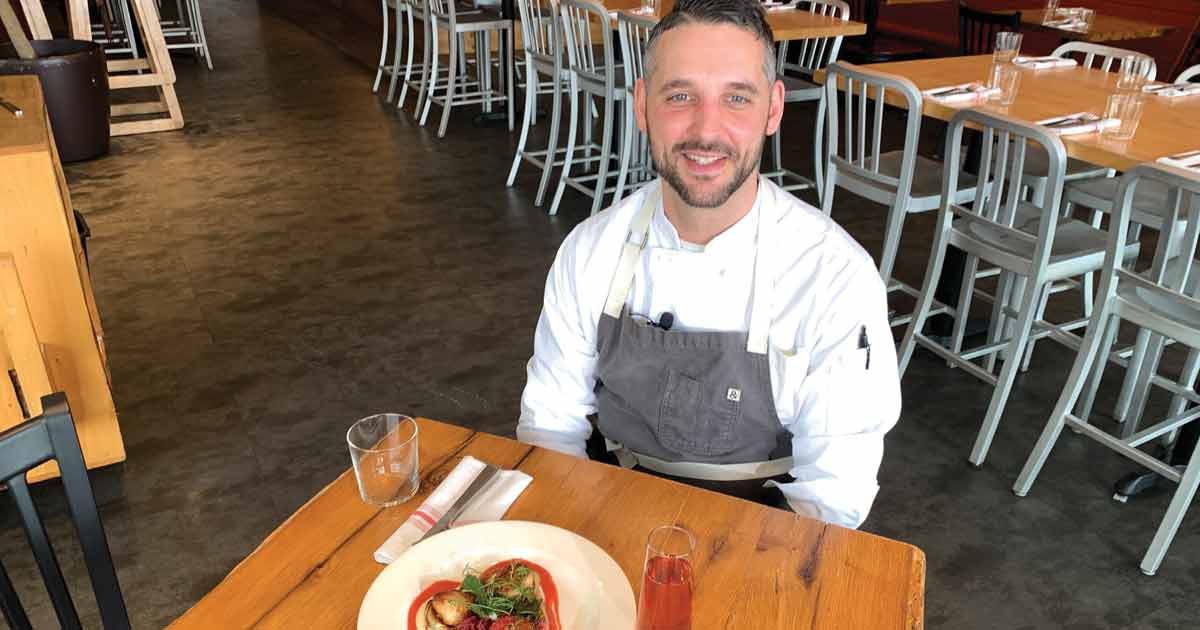 If creating a sexy meal feels a bit overwhelming, consider visiting a restaurant where it's not only about the food, but also the ambience and the beverages offered. Terra GR is known to serve up SEX.
Hang on; it's not scandalous. Frain elaborates, "it's a sparkling wine from L. Mawby, up north in Leelanau, that we have on draft."
Finally, a pro tip you'll definitely want to remember: "Keep the portions small. You don't want to be full after your meal and fall asleep on your date."
After all, we all want to leave room for dessert.
Visit facebook.com/WestMichiganWoman to hear more from Chef Clark.
Written by Jennifer A. Pascua, Content Engagement Manager for West Michigan Woman.