A taste of—and for—the holidays!
What do you get when you mix the scent of pine, taste of sweet figs, feel of a creamy risotto, and look of a shiny, sugary brûlée with festive music in the background? Recipes that evoke nostalgia—just in time for holiday gatherings!
Personal Chef and Culinary Consultant Char Morse (chefcharmorse.com) shares childhood traditions when describing her favorite spirited dessert—a layered orange and chocolate crème brûlée with a chocolate-covered candied orange. "It is simple, but rich and pairs well with the wines I like to use for entertaining or coffee for my designated drivers. I associate oranges and chocolates with Christmas. Growing up, my sister and I always received them in our stockings, with other little snacks or trinkets."
Head Chef Jeremy Paquin of Grove Restaurant (groverestaurant.com) notes a spirited recipe "stirs something inside" and doesn't have to be complicated. "The easier, the better!" His go-to potato risotto with roasted winter squash is perfect for the vegetarian yet satisfying for any palate.
Cookbook author and food blogger, Kate Bolt (livinglark.com) agrees recipes are often a connection to fond memories. "To me, spirit is a mix of celebration and nostalgia—maybe that's a rosemary or sage simple syrup in a cocktail that reminds my senses of Granny's fresh-cut Christmas tree. Mix that with bubbles of any sort and that is the celebration right there—in every bubble!" Her favorites are chewy gingersnap cookies and a batch cocktail called The Vodka Fig.
Ashleigh Evans, InBooze owner (inbooze.com), says batch beverages need not be overcomplicated or intimidating. "I'm all about easy punches or large batch cocktails. Who wants to spend the night playing bartender?" Her favorite recipes are Red Wine Sangria and Apple Pie Moonshine. "Both give you that warm and cozy feel but are so simple to make. Cinnamon and nutmeg flavors are key for holiday drinks."
---
Potato Risotto with Roasted Winter Squash
Yield: 4 to 6 servings
1 pound winter squash, such as Hubbard or butternut, peeled, seeded, cut into ½-inch dice
3¾ pounds Idaho potatoes
¼ cup olive oil
½ cup finely chopped yellow onions
5 cloves minced garlic
¾ cup dry vermouth
2 cups heavy cream (more if necessary)
¼ teaspoon nutmeg
1 teaspoon cinnamon
1 teaspoon chopped fresh sage
1 tablespoon chopped fresh thyme leaves
½ cup cream cheese, room temperature
1 cup Michigan apples, peeled, cored, small diced
Kosher salt and white pepper
¼ cup finely grated Parmigiano-Reggiano (more for garnish)
½ cup toasted hazelnuts
Directions:
Preheat the oven to 425°. Toss the squash with 1 tablespoon of olive oil and place on a baking sheet. Roast for 30 – 40 minutes, stirring every 10 minutes, until tender. Remove and set aside.
Peel potatoes and cut them in ¼-inch x ½-inch-long batons. Put potatoes in cold water until ready to use.
Heat the oil in a large Dutch oven until it shimmers. Add the onions and cook until soft (about 2 minutes). Add the garlic and cook an additional 30 seconds. Add the vermouth and cook until it is very reduced.
Drain the potatoes and add them to the pot with the cream, cinnamon, nutmeg, thyme and sage. Ensure the potatoes are mostly submerged, adding more cream if necessary. Cook undisturbed until the potatoes are tender (about 30 minutes). Add the roasted squash, apples and cream cheese. Cook an additional 5 minutes until well combined. Adjust seasoning with salt and pepper. Garnish with Parmesan and hazelnuts. Serve.
---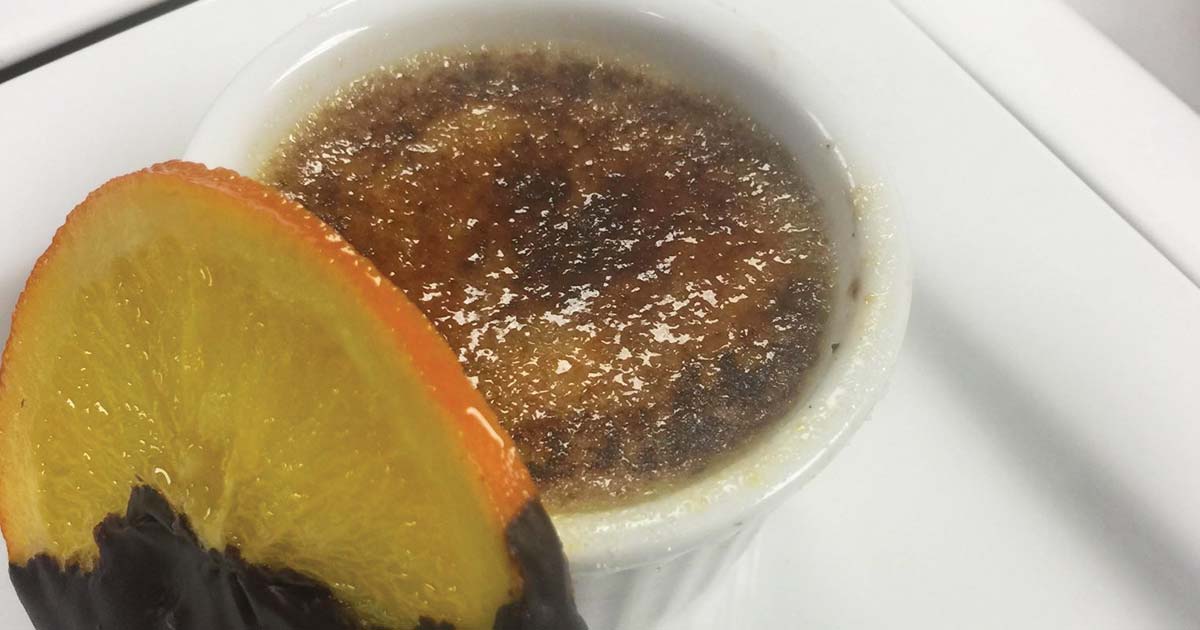 Chef Char's Orange and Chocolate Crème Brûlée
Serves 8
Crème Brûlée ingredients
Chocolate layer:
16 ounces dark chocolate
½ cup coconut oil
Orange layer:
1 quart heavy cream
1 tablespoon pure vanilla extract
Zest of 1 orange
1 cup sugar
8 large egg yolks
½ cup Cointreau Orange liqueur
Crème brûlée directions
For the chocolate layer: Place chocolate and coconut oil in a double boiler, over medium heat. Stir until smooth and melted together into a ganache. Distribute chocolate ganache into bottoms of eight ramekins (7- to 8-ounce). Place in refrigerator to set while preparing the orange crème ingredients.
For the orange layer: Preheat oven to 325° degrees. Place cream, pure vanilla extract, and orange zest in a medium saucepan over medium-high heat and bring to a very low boil. Remove from heat, cover and allow to sit for 15 minutes.
In a medium bowl, whisk together sugar and egg yolks until well blended and just starting to lighten in color. Add cream mixture a little at a time, stirring continually. Add the Cointreau and stir. Pour the orange cream into the eight chocolate-lined ramekins. Place the ramekins in a large cake pan or roasting pan. Pour enough hot water into the pan to come halfway up the sides of the ramekins. Bake just until crème brûlée is set but still trembling in the center, approximately 40 to 45 minutes.
Remove the ramekins from the roasting pan and refrigerate for at least two hours and up to three days.
When serving: Remove the crème brûlée from the refrigerator at least 30 minutes prior to browning the sugar on top. Sprinkle about ½ cup sugar equally among the eight dishes and spread evenly on top. Using a kitchen torch, melt the sugar and form a crispy top. Allow crème brûlée to sit for at least 5 minutes before serving. Garnish crème brûlée with chocolate-covered orange (recipe below) at service.
---
Chocolate-Covered Candied Oranges
Candied orange ingredients
3 ripe oranges, sliced into circles
2 cups corn syrup
2 cups water
2 cups granulated sugar
Additional sugar for drying
Chocolate coating ingredients
32 ounces dark chocolate, melted
Candied orange directions
Slice oranges into whole circle slices. In a wide, shallow pan (a large sauté pan works great), dissolve corn syrup, water, and sugar and bring to a boil. Using tongs, drop the orange slices into the boiling sugar water and allow to cook 2 – 3 minutes. Turn oranges and boil another 2 – 3 minutes. Remove from heat and place orange slices in a pan of granulated sugar. Fully coat the orange slices with sugar and place on a wire rack to cool and dry. If oranges still look wet after cooling, coat a with sugar second time and allow to set for a few minutes before coating in chocolate.
Chocolate coating directions
In a double boiler, melt chocolate until smooth. Dunk candied oranges so only half the orange is coated in chocolate. Place the chocolate-covered orange slices onto parchment paper and into a refrigerator or cooler to harden before serving.
---
The Vodka Fig
Serves 20 (10-ounce rocks glass filled halfway with ice or 30 chilled coupes)
8 cups vodka
1 cup Cointreau
4 cups thyme simple syrup (see recipe below)
2 cups lemon juice
1 cup sparkling water
Garnish, optional:
20 sprigs thyme and 15 halved fresh figs
Thyme Simple Syrup:
3 cup sugar
3 cup water
30 sprigs thyme
10 fresh figs (quartered) or 2 cups frozen figs
Combine sugar and water in a small saucepan and boil over low heat. Turn down heat, then add figs and thyme. Simmer for 5 minutes on low, then cool for 5 minutes. Remove figs and thyme. Strain over a glass measuring bowl, saving until ready to use.
Assemble the Cocktail: In a one-gallon jug, combine vodka with Cointreau, then add thyme simple syrup and lemon juice. To serve, pour into a pitcher or punch bowl with ice on the side and figs and thyme to garnish individual glasses. Splash with a bit of sparkling water to lighten it up, if desired. Cheers!
---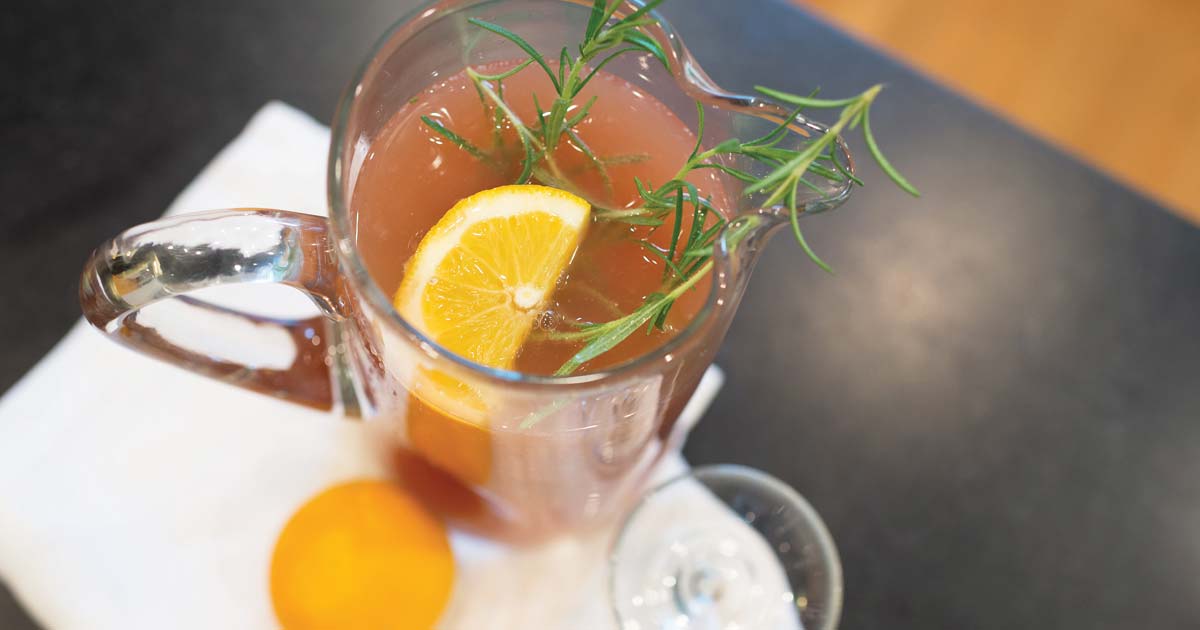 Party Favorite: 5-Minute Sangria
Ingredients
1 bottle red wine
1 cup blackberry brandy
12 ounces diet lemon-lime pop
1 orange, sliced
1 apple, chopped
1 teaspoon cinnamon
Ice
Instructions
1. Add cut fruit to the bottom of a large pitcher, leaving some room for garnish. Sprinkle with cinnamon. Stir.
2. Slowly pour brandy and wine into pitcher. Stir.
3. Fill wine glass with ice and a slice of orange. Add sangria halfway up, then top with lemon-lime pop.
4. Garnish with a shake of cinnamon.
NOTE: If you don't like diet lemon-lime pop, substitute your favorite flavored sparkling water.
---
Slow-Cooker Apple Pie Moonshine
Makes 8 quarts
Ingredients
1 gallon apple cider
32 ounces apple juice
4 large apples, seeded and sliced
2 cups white sugar
1 cup brown sugar
4 whole cinnamon sticks, plus more for jars
1 lemon sliced, with seeds removed
1 liter Everclear grain alcohol
1 liter vodka
Instructions
1. Set slow cooker to HIGH for 4 hours. Add apple cider, apple juice, sliced apples, lemon, cinnamon sticks and sugars. Cook, stirring frequently. This will be the moonshine base. Once cooked, strain out apples and lemon slices.
2. In a pint-sized mason jar, add 1 cinnamon stick, ½ cup Everclear and ½ cup vodka. Ladle strained moonshine base over alcohol, until almost to top of a jar. Use Mason jar lid to seal. Repeat until alcohol is gone (about 8 – 10 pints).
3. Store moonshine in a cool, dark place for 30 days to finish. This will be good for up to a year!
4. To serve: Pour over ice or add lemon-lime pop for a cocktail.
Written by Jennifer A. Pascua, Digital Content Strategy Manager for West Michigan Woman.
This article originally appeared in the December/January 2019 issue of West Michigan Woman.