There's a new canned beverage in town—and it's found a place on the entertainment schedule.
The second variety in the Coppercraft Distillery canned craft cocktail lineup has a busy summer ahead!
The Michigan Mule, a ready-to-drink cocktail in a can, is a local take on the popular Moscow Mule—reimagined with Coppercraft vodka, lime, and a ginger hard cider in place of ginger beer. It's a refreshing blend that's ready for this season's celebrations. Mastering easy, this can is up for anything: understanding your active lifestyle and never wanting you to miss out on a signature cocktail.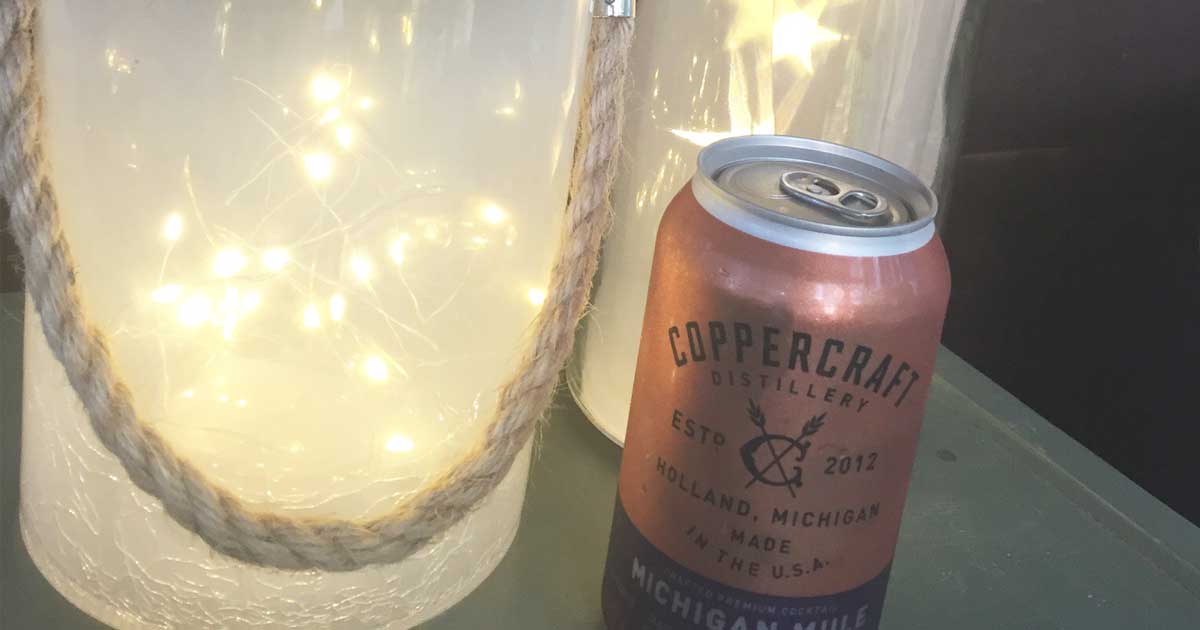 Here are the top five places where the Michigan Mule will rule.
AT THE GNO
Straight out of the can or in a fancy copper mug for your Instagram feed, this cocktail is going to be a hit with the ladies. The four-pack of 12-ounce cans is perfect for sharing, so feel free to bring a pack and swap with friends. You could even top it off with some fresh fruit—and toast to more nights with your inner circle and convenient, on-the-go cocktails.
ON THE PORCH
Add this to your Porch Rules list. The Michigan Mule is the perfect thing to sip on a sweet summer evening, while stargazing or as a nightcap. It's Mama's little helper after a long, hot day. Coppercraft Vodka is created with 100 percent Michigan-grown corn for a crisp, clean, neutral palate that ends with a slight sweetness—kind of how you want your evening to pan out.
THE BLOCK PARTY
Whether we're talking a street party or your neighborhood cul-de-sac soirée, you'll need a drink that travels well. Forget various bottles to lug around that might spill or break. Load the Michigan Mule in your picnic basket or wagon and cart your kids, food, drinks and flip-flops on over with the best conversation starter right in your hand.
CAMPING
At the cookout, during lawn games or sipping by the campfire, the cocktail in a can has this relaxed camping thing down. It's the definition of packing light, with everything you require in one can, so it's taking up less space but adding tons of flavor to your—dare we say it: glamping—getaway. You'll be the talk of the campground with your fancy, ready-made bar drink in a can.
POOLSIDE
Last minute pool invites are never to be turned down. Quick thinking means throwing your canned cocktail in a cooler, so you can soak up the sun while enjoying the tangy ginger and citrus lime flavors that offer a cold zing and a welcome kick to combat the heat. Be pool party-ready with your swimsuit, towel, sunblock and your Midwest mule beverage.

Article and photos by Missy Black, a footwear fanatic, style child and contributing writer for West Michigan Woman. Coppercraft Distillery, an award-winning artisan spirits distiller based in Holland, Michigan, also offers a Gin & Tonic canned cocktail. This may be next on the writer's list ...