It's your niece's birthday or your grandson's wedding. Do you order pizza or bring store-bought cake? Probably not, if you're from Mexico.
Giuliana Fuentes and her mother, Ana, who immigrated to the United State 30 years ago, wouldn't dream of it. In Mexican tradition, special occasions—and special people—merit special preparation. That means there will be mole.
Imagine a rich, dark, almost black sauce with complex flavors and a smooth consistency: You're only beginning to get the idea of what mole is. When tasting your first mole, you might try to decipher what hit your tongue. With more than 20 ingredients in most recipes, the answer is: Plenty!
The tradition of mole, dating to the 1700s, is commonly associated with the City of Puebla, Mexico. A popular origin story—shared by Giuliana and Ana—involves the nuns of the Convent of Santa Rosa. It's told that the nuns, who learned the Archbishop would visit their convent, had few resources to prepare a dish for such an important guest. They pooled every item in their pantry, grinding them until they had a thick, fragrant paste with a delightfully intricate flavor. Mixed with the broth of a turkey cooking on the stove, the sauce became known as mole—from the verb moler, meaning to grind.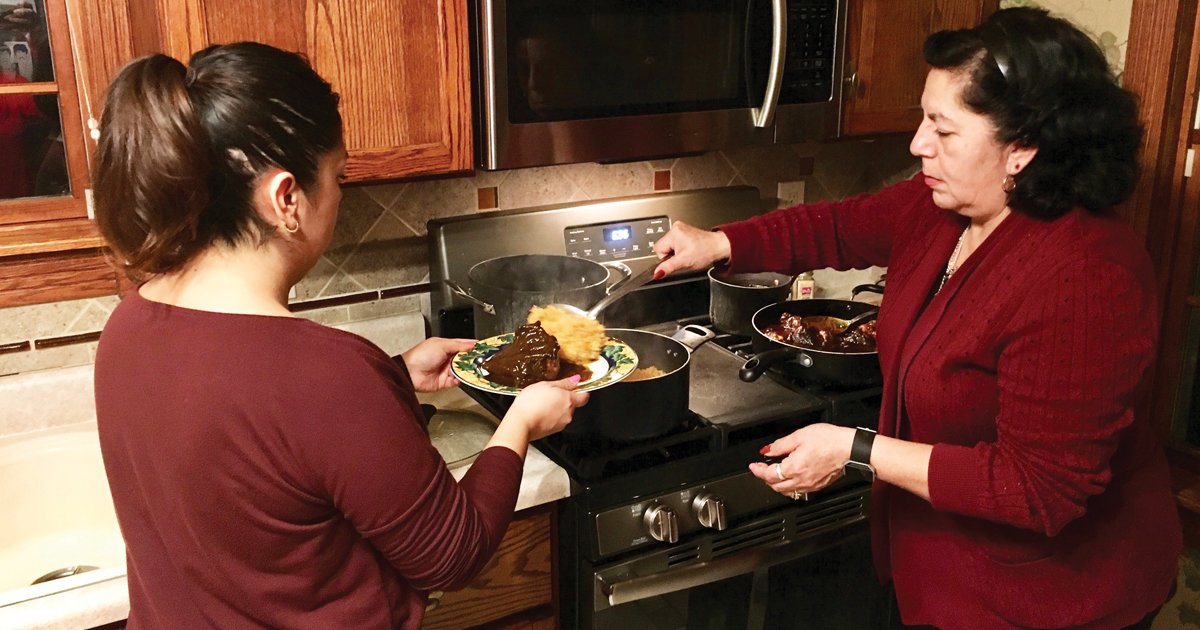 Today mole, considered the national dish of Mexico, is served at every holiday and special occasion. Making mole is a way for Latinos to maintain customs and culture, with family recipes passed down through generations. Giuliana described the process as more of an essence than a structured, documented recipe. There's tasting and adjusting along the way until it's just right, which is different to every cook.
In the U.S., it's not always possible to find the exact mole ingredients used in Mexico—and finding time to create mole from scratch may be difficult. Many cooks opt for a starter paste, adding signature touches to make the sauce uniquely theirs.
The last time Giuliana and Ana made mole, they wrote down every step ... and shared their easy version with us.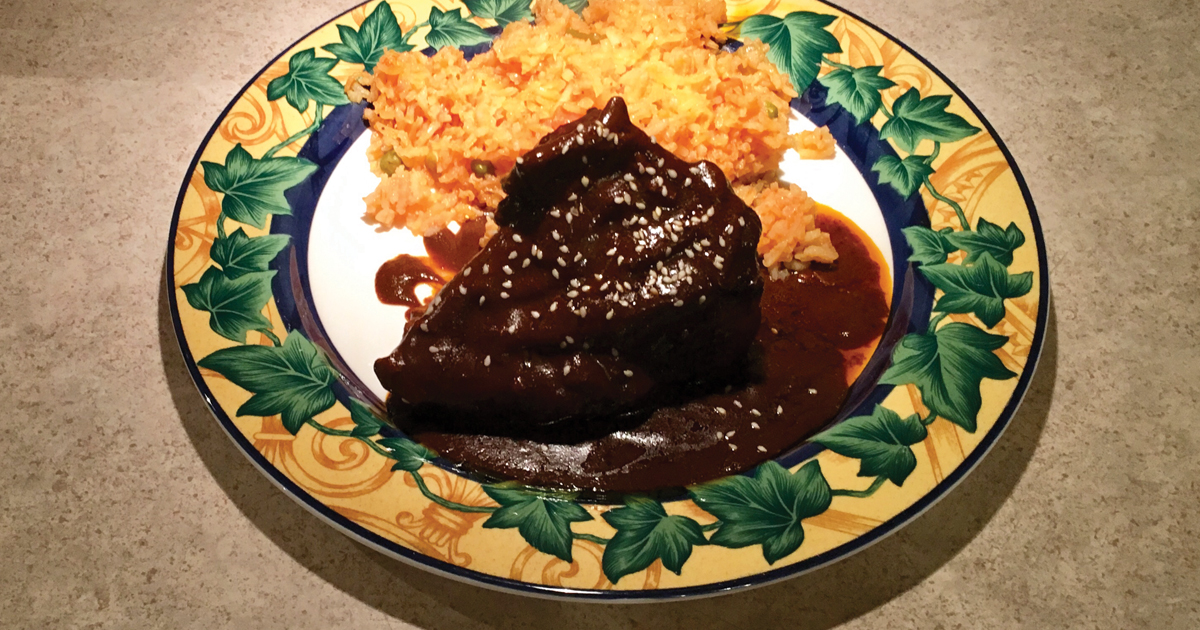 Giuliana & Ana's Quick Mole
1 jar Mole Doña Maria
1 whole chicken or preferred chicken meat
¼ Chocolate Abuelita bar
½ tbsp. salt
1 tbsp. sugar
1 onion
Boil 1 – 2 liters of water with salt and sliced onion.
Add chicken, cooking until tender.
Reserve chicken in the broth.
Add ¼ cup chicken broth to a saucepan and mix in jar of mole, on medium heat.
Once paste turns into a sauce-like consistency, stir in another ½ cup of broth.
Add chocolate and dissolve in covered saucepan.
Add sugar.
Stir frequently, reducing heat if sauce comes to a strong boil.
Continue adding water to sauce until reaching desired thickness (like pancake batter).
Add chicken to the mole sauce, cooking for about 10 minutes.
Serve chicken with mole sauce on a bed of rice, with warm corn tortillas.
Want to test your cooking (and grinding) skills? Try this favorite from-scratch recipe: http://bit.ly/GFquickmole
Allison Kay Bannister, a West Michigan resident since 1987, professional writer since 2002 and Grand Valley State University alumna, recently launched her own freelance writing business. Allison enjoys travel, art, dance, food and exploring world cultures—and, of course, writing about all these and more.