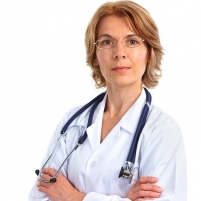 Having an open and trusting relationship with your obstetrician/gynecologist makes women less reluctant to strip down on appointment day or to make the date all together. Whether you've seen the same doctor for years or you're shopping for a new one, there are some things to consider before your your next Pap.
Before you make an appointment, do your research. Feel free to ask other women you know for references, and follow up on them. Your female friends and family members can be a good source of information in this department, so don't be shy. Research the recommendations, and even call the office if you have questions.
Will your doctor's gender make a difference when you spread 'em? If in your opinion, a doctor is a doctor is a doctor, and you are comfortable with a male or female OB/GYN, cross this requirement off your list. But if the thought of a semi-stranger male seeing you with your pants down makes you the least bit uneasy, go with a female doctor. This is one time you'll want to stay inside your comfort zone.
How important is your gyno's bedside manner? If your once-yearly visit is of no consequence to you, finding someone to meet your personality needs will be easier. However, if you need to have a stronger connection with the person who will be very, very close to you, physically and knowledge of your body-wise, consider setting up a time to meet with, and get to know your doctor before your first appointment. Like falling in love, when you've found the right OB/GYN, you'll know.
"Your relationship with your gynecologist is one of the most intimate professional relationships you may have. While this relationship will take time to nurture, you should have a feeling even on the first visit that this is a person you will be able to trust with your most private or serious concerns," says Donnica Moore, M.D.
Once you've made your appointment, relax, and let them do the work. If you have questions before your visit, write them down so you remember to ask them. Doctor-patient confidentiality is no joke in the professional world, so feel free to voice any concerns you have during your appointment.
After your visit, evaluate your experience. Did you feel comfortable? Were you respected? Did you have enough time to ask all of your questions? Are you going to go back?
Lastly, don't put off your next appointment. The need for an annual check up is inevitable. You can even make the appointment while you're still at your doctor's office. As your calendar fluctuates, you may have to call and reschedule, but the initial task of saving the date is the hardest part, so get it over with while it's still fresh in your mind.
Written by: Erika Fifelski was born and raised in West Michigan, and after a brief stint on the sunrise side, she's home and loving it. Erika enjoys cooking, sewing, vacuuming, and discovering new ways to live sustainably and support local businesses. Source: Dr. Donnica Moore, M.D. Photo: stock.xchng