From the polished patterns of formal gardens tended by human hands to the seamless design of nature's own wise weaving, this year's Chrysanthemums & More! exhibition offers up an elegant autumn tapestry to explore.
If you're ready for fall and all its glorious scenery, the upcoming Chrysanthemums & More! exhibition at Frederik Meijer Gardens & Sculpture Park is the perfect way to usher in the season. Opening to the public September 15 and running through October 30, Michigan's largest exhibition of its kind features expansive displays of chrysanthemums, fall foliage and family-friendly activities.
This annual fall exhibition—a perennial favorite now in its 25th year—spans thousands of blossoms across 158 sprawling acres. Chrysanthemums & More! will surprise and delight, with a focus on abundant autumn plantings arranged in intriguing and uncommon color combinations. It's the quintessential fall flower like you've never seen it before! This beloved fall exhibition remains a member and guest must-see.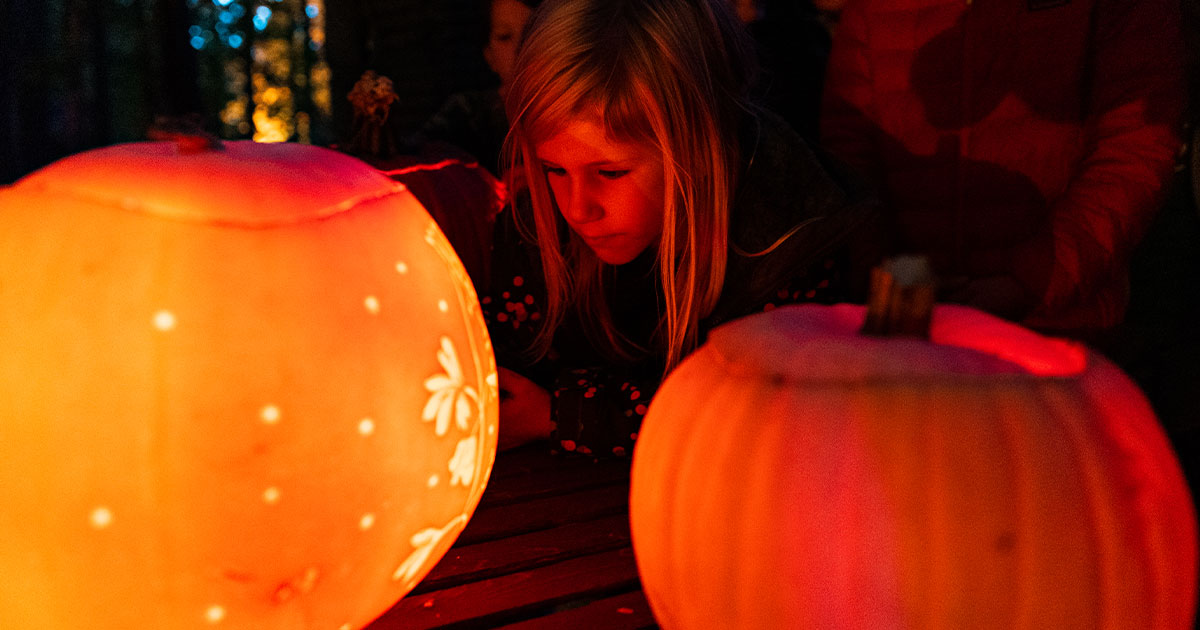 Plentiful plantings in the Grand Entry Garden, Welcome Center, and Gunberg and BISSELL Corridors showcase the chrysanthemum through the artistry of many designers, among them Frederik Meijer Gardens & Sculpture Park horticulture staff. In the BISSELL Corridor, a different local floral designer each week will create a singular arrangement highlighting the chrysanthemum as its primary element. Local florists include Big City Vibes, Ball Park Floral & Gifts, Kennedy's Flowers & Gifts, Horrocks Market, Dahlia Acres Farms and Gumina's Flowers. Of equal note are stunning displays in the Grace Jarecki Seasonal Display Greenhouse, Earl & Donnalee Holton Victorian Garden Parlor, and Lena Meijer Tropical Conservatory—each lush and lovely.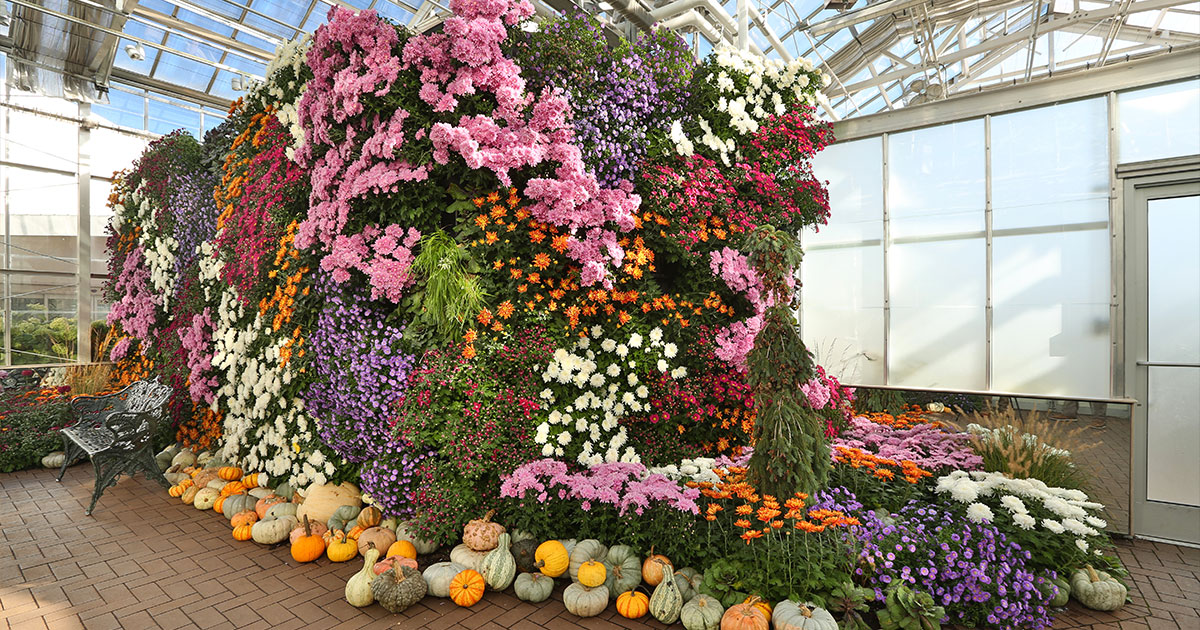 Outdoors, treat your senses with a trek into the crisp fall air. Venture onto the Stuart and Barbara Padnos Rooftop Sculpture Garden, with its seasonal wetland views. Then make your way to the Lena Meijer Children's Garden: Its cornucopia of chrysanthemums intermingles with nontraditional autumn plantings to form a quilt-like tapestry. Continue to Michigan's Farm Garden, where the abundant autumn harvest boasts heirloom vegetables, herbs, gourds and larger-than-life pumpkins. This example of a working 1930s family farm occasionally provides some of its more than 40 varieties of produce for our James & Shirley Balk Café.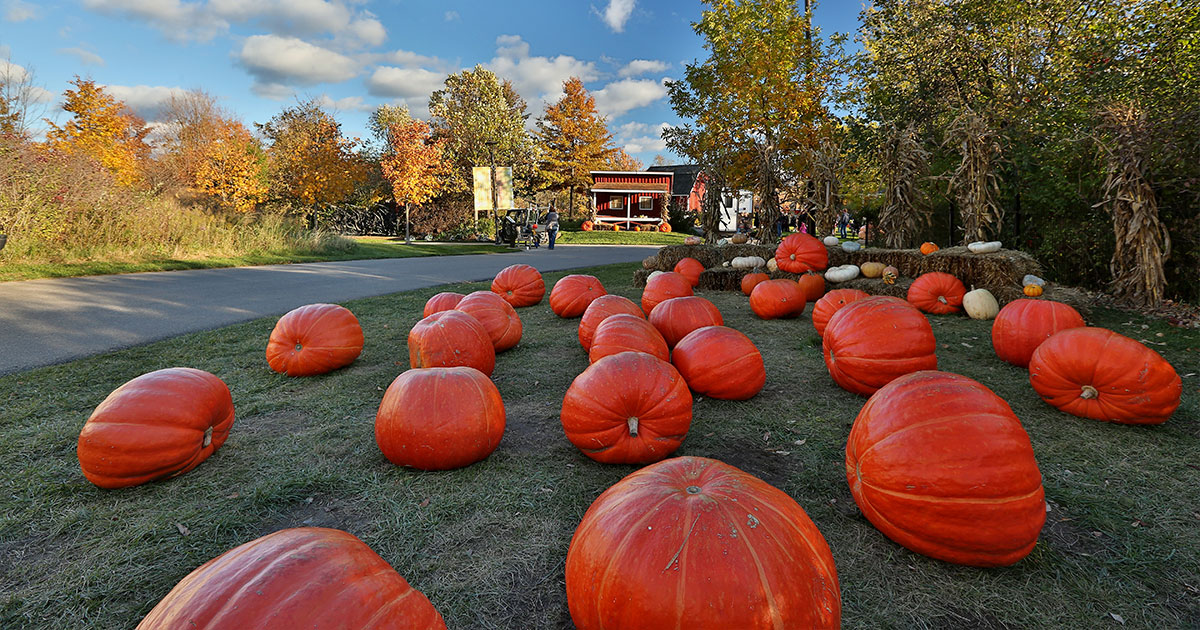 "This autumn, join us as we weave an Autumn Tapestry both inside and out," said Steve LaWarre, Vice President of Horticulture. "View artfully manipulated patterns of chrysanthemums and enjoy a multitude of textures provided by ornamental cabbage, kale, pumpkins, grasses, gourds—and more!"
Activities throughout the exhibition, including Tuesdays at the Farm, Glow Garden and Hallowee-Ones, are full of family fun.
If you're ready to immerse yourself in a living landscape of rich textures and warm hues and the exhibit's Autumn Tapestry theme, visit Frederik Meijer Gardens for more details and a full listing of accompanying events.
Courtesy of West Michigan Woman.
Photos Courtesy of Frederik Meijer Gardens & Sculpture Park and Johnny Quirin.