On Saturday, September 9, the picturesque Garden Club Park in Rockford will be overflowing with creativity once again with the return of Art in the Park. The admission-free art fair runs from 9 a.m. to 5 p.m. and features an eclectic group of over 50 Michigan artisans selling a wide a variety of art including jewelry, pottery, paintings, photography, woodwork, home décor, glass, leather work, clothing, illustration, sculpture and more.
"It's been exciting to curate all of the artisans for this year's Art in the Park," said Bob Brown, chair of the event hosted by Rogue River Artists Association. "We have a great mix of popular returning artists, as well as several who are new to Art in the Park. The art fair has become a community favorite because it features a wide variety of mediums, the opportunity to meet and talk to the artisans, plus it's set in Rockford's vibrant downtown."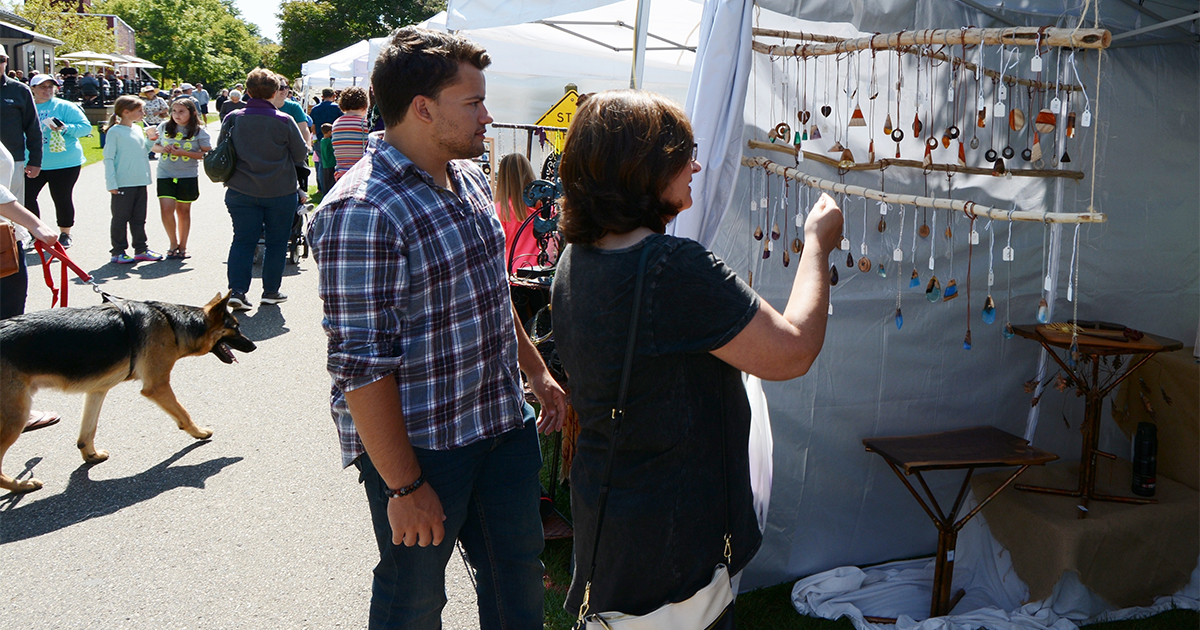 The juried portion of the art fair includes 35 regional artists, and Rogue River Artists Association will have 18 member artists in the tents around the stage. Many of the artists have won awards at local and regional shows.
"A couple of the returning favorites are 2021 and 2022 Best in Show winner Amy Johnson, with her incredible beadwork jewelry," Brown said, "And Instagram phenomenon Claire Gill of Bluegill Ceramics, with her carved pottery work that won awards in ArtPrize and functional work focusing on nature themes."
The art fair is family-friendly, so bring the kids along and be sure to check out pop art paintings, magical illustrations and children's books by Kenn Vidro (Square Pears) and Corinne Roberts (Drawing Dragons).
Once you've completed your shopping and admiring of the works found at Art in the Park, there's more to explore in vibrant downtown Rockford, including the farmers market (open 8 a.m. – 1 p.m.), great shopping, a fantastic variety of restaurants, ice cream shops, a brewery and a winery, strolling on the White Pine Trail, bowling and a pinball/video arcade.
Additional artist information, a parking map and more will be posted on the Rockford Art in the Park Facebook page.
Courtesy of Rogue River Artists Association.
Photos Courtesy of Jim Falk.