As Broadway Grand Rapids rings in 35 years of bringing the very best national touring Broadway productions to West Michigan, the non-profit organization has shared a number of ways they're celebrating and commemorating this milestone.
In addition to their 35th anniversary season, which begins in September with the Michigan premier of Funny Girl, Broadway Grand Rapids has announced an exciting series of community collaborations and a special fundraising initiative that seeks to continue the unwavering support they've offered the community over the years. Now, the organization hopes to enhance access to the magic of Broadway for those who might not be able to otherwise enjoy a Broadway production.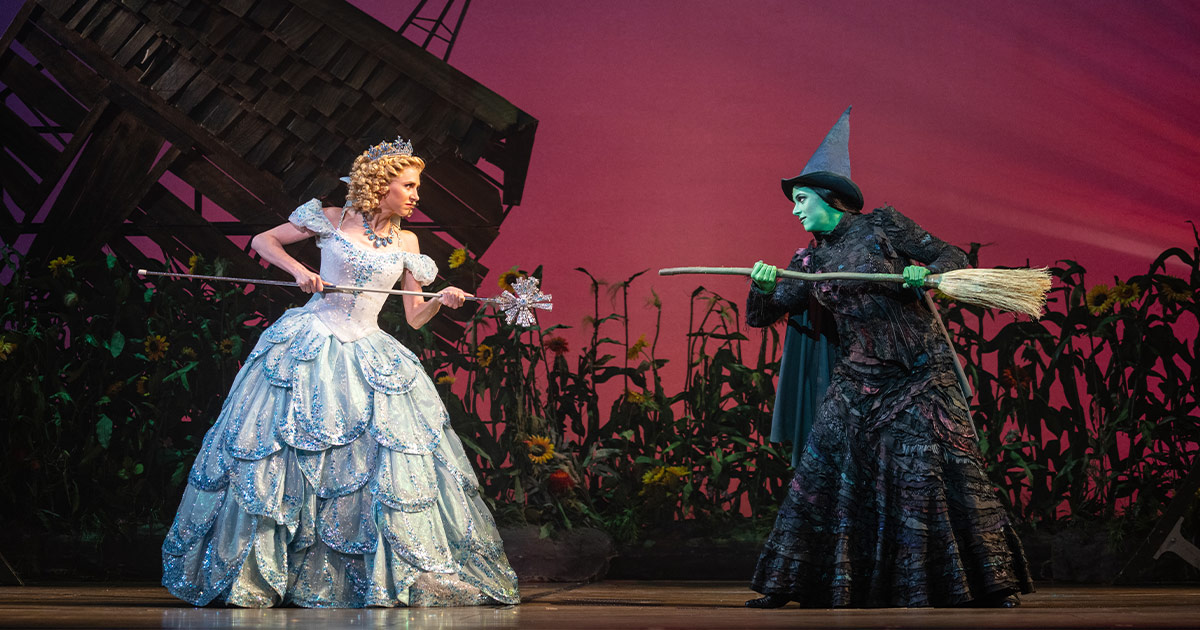 Celia Hottenstein as Glinda and Olivia Valli as Elphaba in the National Tour of WICKED. Photo Courtesy of Joan Marcus.
A commitment to making touring Broadway more attainable, the "$35 for 35 Years" Fundraising Initiative calls on supporters and theatre enthusiasts to make $35 donations throughout the season, with the goal of reaching $35,000. Funds raised from the initiative will be directed to the Broadway Arts Access Program, ensuring that everyone in the West Michigan community has an opportunity to experience Broadway.
In addition to the fundraising initiative, Broadway Grand Rapids plans to collaborate with 35 community organizations and small businesses throughout the season to expand the reach of Broadway and bring the joy of theatre to a broader and more diverse audience. These community collaborations and partnerships in the Grand Rapids and lakeshore area range from swing dancing, dining partnerships, beverage collaborations and more.
Adi Roy as Aladdin in the North American Tour of ALADDIN. Photo Courtesy of Deen van Meer.
"We are humbled and honored to celebrate 35 years of sharing the magic of Broadway with our incredible community," said Meghan Distel, President & CEO of Broadway Grand Rapids. "Our anniversary represents not just a milestone in our history but also an opportunity to deepen our connection with our supporters and make theatre accessible to more individuals. Through our community collaborations and the '$35 for 35 Years' campaign, we hope to create a lasting impact that will resonate for generations to come."
2023-2024 Broadway Grand Rapids 35th Anniversary Season:
Funny Girl: September 19-24, 2023 (Michigan Premiere!)
Tina -The Tina Turner Musical: November 7-12, 2023
Disney's Aladdin: January 16-21, 2024
Les Misérables: March 5-10, 2024
Harper Lee's To Kill A Mockingbird: April 23-28, 2024
Wicked: May 15-June 2, 2024
MJ: July 9-14, 2024 (Michigan Premiere!)
Season ticket packages are available through August 21st at BroadwayGrandRapids.com/subscribe. Tickets for Funny Girl are now on sale; on-sale dates for remaining shows will be announced at a later date.
For more information, visit BroadwayGrandRapids.com or call 616.235.6285.
Written by Sarah Suydam, Managing Editor for West Michigan Woman.
Main Photo: Naomi Rodgers as 'Tina Turner' in the North American touring production of TINA – THE TINA TURNER MUSICAL.
Photo Courtesy of Matthew Murphy for MurphyMade.