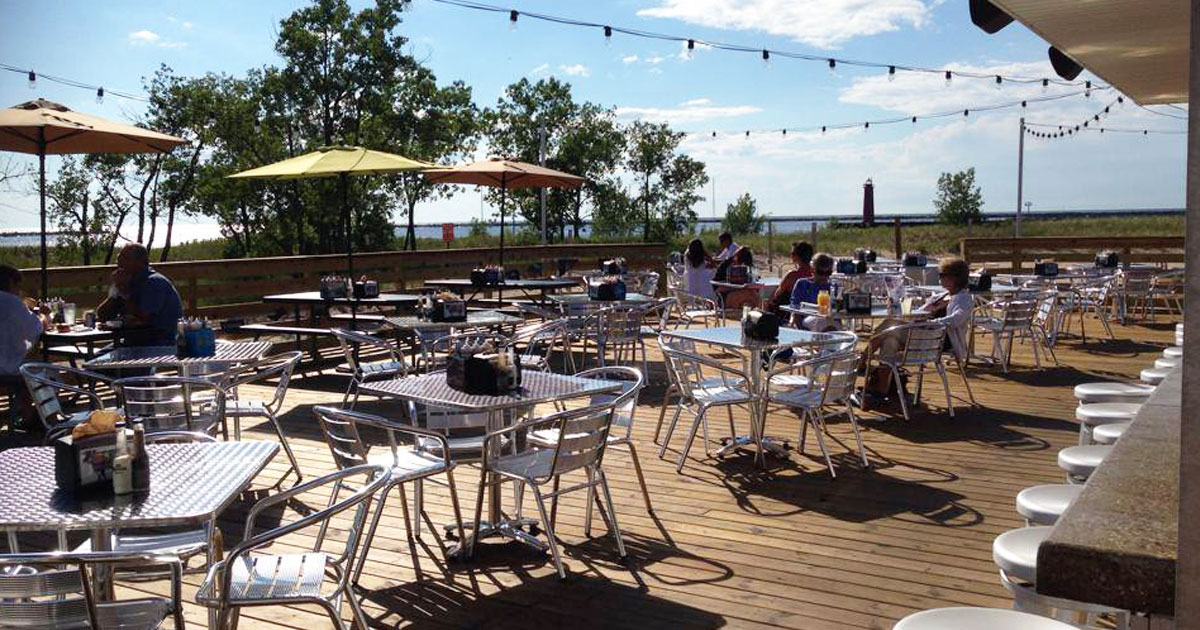 What better time to soak up the sun, listen to the splash of the waves, and watch the boats go by? Summertime in West Michigan is simply fabulous, and the following establishments are ideal places to enjoy a cocktail or meal on the deck.
Bostwick Lake Inn | Rockford
Established in 1910, Bostwick Lake Inn has the feel of that old summer place on the banks of the lake. Windows provide wonderful views of the water and wrap around the side, overlooking a deck with a bar, seating, and live music in season. Inside is a cozy, casual feeling of friendship and neighborhood gathering for food, fun, and fellowship. The casual, eclectic, creative menu focuses on traditional and "new" American favorites.
http://thegilmorecollection.com/bostwick.php
The Butler | Saugatuck
When it comes to outdoor eating and drinking, friends and fans are convinced that nobody does it better than The Butler Deck! Excellent food is accompanied by "the best drinks in town" and live music, all with great views of Saugatuck's harbor and the Kalamazoo River. Don't miss out on this Saugatuck summertime tradition: Get Decked!
http://www.butlerrestaurant.com/


Boatwerks | Holland
Located on Lake Macatawa, Boatwerks' décor gives a nod to the city's boatbuilding history, with a bar designed to resemble a ChrisCraft runabout and historic local photos integrated into its comfortable yet sophisticated atmosphere. The deck is large, and there is space to dock your boat along the pier, if you'd like to arrive by water. Happy hour is daily from 3:00-5:00 p.m. with drink and appetizer specials, and Sunday's Bloody Mary bar opens at 10:00 a.m.
http://www.boatwerksrestaurant.com/
The Piper | Holland
Overlooking Holland's marina, where Lake Macatawa meets Lake Michigan, The Piper's deck offers fabulous views and sophisticated dining, with gluten and dairy-free options. Happy hour is Tuesday through Friday, and Sunday from 5 – 6 p.m., and after 8:30.
http://piperrestaurant.com/
Old Boys' Brewhouse | Spring Lake
Summertime is the right time to enjoy fresh local fun at family-friendly Old Boys' Brewhouse. Its waterfront deck is open and ready for spending some time enjoying the sun, along with a fine handcrafted brew or soda and a meal. Located where scenic Spring Lake meets the Grand River, Old Boys' deck offers a beautiful water view, a full menu, a full bar, and weekly live entertainment.
http://www.oldboysbrewhouse.com/


The Deck | Muskegon
At The Deck, the motto is "All the B's: Beer, Barbecue, and even a Beach," and the atmosphere is beach bum casual. The Bloody Mary is a meal in itself, served with a PBR to wash it down. The menu is extensive, with loads of barbecue options and sides such as baked beans, cornbread, watermelon wedges, corn on the cob, and many other delectable offerings.
http://thedeckmkg.com/
Photos courtesy of The Deck and Boatwerks.