When working with clients at Stingray Advisory Group, I am often asked about social media.
With its fast pace, many people quickly become overwhelmed and lost in a sea of information. As with most challenges, I recommend taking a step back and getting a better perspective on the real issue at hand. In this particular case, step 1 is to decide which platform(s) you should be on. We work one-on-one with our clients to walk them through identifying key elements of not only their business model but also of their brand identity that will affect this decision. From there, we are able to begin developing a marketing plan.
Whether you are just starting to consider utilizing social media or you have been active online for a while, here are three DIY tips to help you ensure you are focusing your energy and efforts in the right places.
1. Know your audience.
Before you dive into the deep end of the social media pool, you should have a clear picture of who you are looking to engage with. We help clients develop specific buyer personas so they can fully visualize their customers, interests and behaviors. For B2C businesses, this should include descriptors such as age, location, hobbies and other specific details. For B2B companies, you would consider business location, annual revenues, the number of employees, industry, et cetera, to develop a picture of your audience.
2. Set clear goals.
Take time to decide why you are using social media in the first place. For instance, are you trying to increase brand awareness? Perhaps you would like to drive more foot traffic into your brick-and-mortar store. Or maybe you are looking to introduce people to a new product or service line. Regardless of your reason—which may change over time—having a purpose for your messaging, a plan for message placement and an ideal end result will help set the tone for your outreach.
3. Do your homework.
In this day and age, we have so much information at our fingertips. There are reports generated regularly that highlight the user demographics of the major social media platforms. Once you have homed in on your audience and established your goals, these reports can help you make an educated decision about which platform(s) will help you best connect with your target audience.
When in doubt, ask.
It is often said, "There is no such thing as a stupid question." As it relates to social media, that could not be more true. Take advantage of the resources and information at your disposal. By being properly prepared and knowledgeable about these items, you will feel more confident and empowered to begin navigating through the social media waters.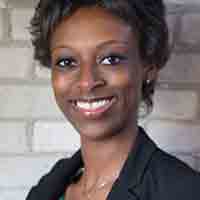 Leandra Nisbet is the owner of Stingray Advisory Group LLC and co-owner of Gold Leaf Designs LLC and Brightwork Marine. With over 12 years of experience in leadership, sales and marketing, and graphic design, she assists businesses with creating strategies for growth and sustainability through strategic planning, marketing concept development/implementation, risk management solutions and financial organization. She is actively involved in the community, sitting on several boards and committees. Contact Leandra Nisbet by e-mail at [email protected].