Law enforcement is without a doubt a predominately male field—the number of women who go into policing, firefighting and paramedic-related careers is few and far between.
However, Grand Valley State University notes 2018 is the first year in the history of the Police Academy that it's seen so many women in a recruit class.
The 2018 class is the largest to date, with 43 recruits and a record number 14 of them female. These numbers surpass last year's record of 12 females enrolled in the academy.
The uptick in women, according to Williamson Wallace, director of Criminal Justice Training at GVSU, is due to a goal many law enforcement agencies have of trying to be "more reflective of the community."
Law enforcement leaders are realizing that effective community policing starts with the officers and their roles in the spaces they work. Many police departments take on different strategic approaches to recruiting more diverse classes, ending up with a more diverse department.
"When it comes to women in law enforcement, they have different attributes and perspectives," Wallace said. "Women have a lot to offer to law enforcement and it's important to continue to see those numbers grow."
Women comprised only 13 percent of all full-time police officers in Michigan yet encompassed 51 percent of the civilians working for Michigan police departments in 2015, according to FBI data.
So, what has women entering full-time police officer roles? What is attracting women to law enforcement? Three GVSU Police Academy recruits share their inspirations and motivations for the path they chose.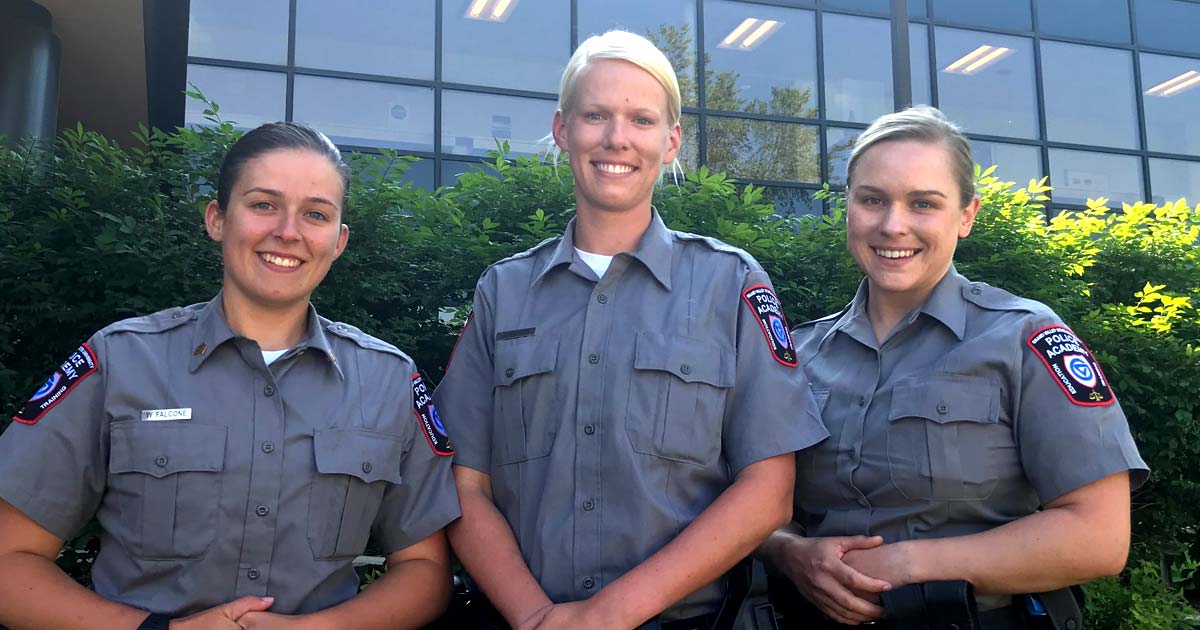 Pictured, left to right: Whitney Falcone, Katrina Beyer, Kate Chase.
The Former EMT/Firefighter
Katrina Beyer found herself in a male-dominated career well before she considered policing.
"I wasn't sure what I wanted to do with my life at first," Beyer said. "I knew I wanted to help people and I've always been a bit of an adrenaline junkie, so I went and got my EMT license."
Beyer did her training at a fire station and thought the fire trucks looked fun. "So, I went into that." She has been a firefighter for about seven years. After a few years, her drive led her to get her paramedic's license. It wasn't until she felt a "halt" in her career that she started considering law enforcement.
"There was no room for growth, and that's when I knew I should go into policing."
Beyer finds there are many opportunities, especially with her diverse background. She can move up and accomplish certain goals as she takes on this new chapter in her career. She has been hired by the Grand Rapids Police Department and, once finishing with the police academy, will work as a police officer in the Grand Rapids area.
The Military Police Officer
Whitney Falcone's connection to law enforcement started at home. Her stepfather, who was Police Chief of the Kalamazoo Department of Public Safety, has been an enormous influence and mentor throughout her life. After high school, Falcone enlisted into the U.S. National Guard and became a military police officer.
"I always knew I wanted to help my community and deep down, serve my country," Falcone said. "And I want to be a role model, especially for my younger brother and sister. I want to make a difference."
After leaving the service, Falcone worked at the Kalamazoo Township Police Department as a service officer and doing various other administrative tasks.
"I knew after experiencing the military police, I wanted to come back and do it on the civilian side," she said. Falcone knew she wanted to contribute more to her immediate community, rather than the state or country, at this point in her life.
"I'm excited to be able to give back to the Kalamazoo community. I want kids to know that it gets better and just, work on improving police officers image in the area."
Falcone notes that in her area, the community isn't always supportive of law enforcement officers. She wants to represent women and her community in proving that police officers and law enforcement can be seen in a positive light.
The Professor
Kate Chase calls her journey to law enforcement a wayward one.
"I've always been the 'big kid,'" she explained, calling herself a "playground vigilante." Chase would see kids getting picked on and felt a need to stand up for those who couldn't stand up for themselves. "I've always been the 'tough girl' or 'tomboy.'"
The Grand Valley State University graduate was a lot like her counterparts, unsure of what she should do and where her passions could take her. She'd interned with a security firm but didn't see any upward mobility and wanted to move on from that.
Chase worked as a 911 dispatcher in the Grand Rapids area and has been an adjunct professor at GVSU, teaching self-defense for about eight years. Now she wants to open more doors for herself, putting her experiences and skills and "vigilante" spirit to use as a police officer.
"It's been an interesting transition, going from a professor to a student again," Chase said. "I even have a former student of mine in the class with me right now."
For Women Considering Law Enforcement ...
Though there aren't many women in law enforcement and—for many—it may seem an unconventional career path, these recruits don't want that to deter you.
"Women bring something different to the table," Beyer said. "We have a different kind of compassion for people."
"—and we see and perceive things differently, and a police department needs that," Falcone added.
"There's a level of surprise to women in law enforcement," Chase said. "We can surprise people with our level of strength and we analyze situations differently. Women are a kind of underdog."
For any woman considering a career in law enforcement, don't let the "brotherhood" intimidate you. Beyer, Falcone and Chase note more women that join law enforcement have a sisterhood they can depend on.
"We can look at one another and know we're there for each other in ways that the guys here just can't be," Chase said. "We push each other to be better."
The three agree you have to value the community and, ultimately, be the change you want to see. It's easy enough to watch a man do it, but step up and do it better.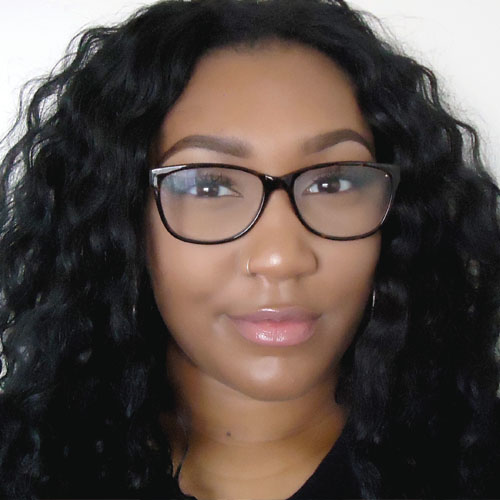 Written by April Simone Stevens, a Grand Valley State University alumna and beauty blogger who enjoys dabbling in graphic design and video production. April also enjoys beer tasting, delicious food and visiting Grand Rapids Art Museum as often as possible. Follow her on Instagram @spotlightvanity for updates.